Sophomore Olkowski withstands late challenge to capture title.
By David Plati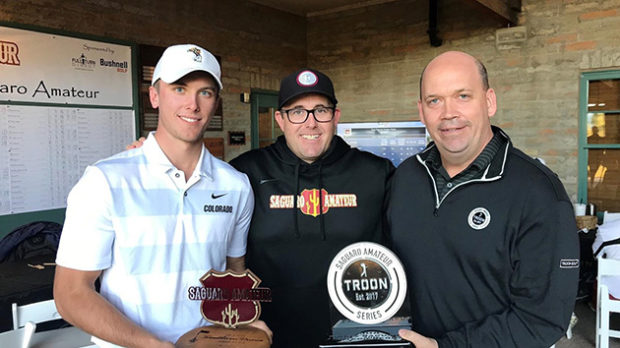 University of Colorado sophomore Trevor Olkowski of Grand Junction held off a late charge and won the third annual Saguaro Amateur Friday at Ak-Chin Southern Dunes golf course in Maricopa, Ariz.
Olkowski, tied for seventh after the first round, took over the tournament lead with a second round 67 and claimed medalist honors. After recording a 2-under 70 in the final round, closing with an 8-under 208 score on the 7,588-yard, par-72 layout.
He dueled it out with University of New Mexico senior Sean Carlon, who trailed Olkowski by a stroke entering Friday's action.  Carlon rallied to lead twice by a stroke on the front nine, but four birdies in a six-hole span by Olkowski put him ahead for good. On 18, after Carlton pulled within two shots with a birdie, Olklowski navigated a difficult greenside bunker and sink a four-foot putt on No. 18 for a bogey and the victory.
"The win means a lot to me because it's a reflection of how hard I've worked and the effort I have put in," Olkowski said.  "Hopefully I can carry this momentum into the college season as well.
"I played scrappy," he continued.  "I had a lot of really good and bad shots but played to my strengths and played smart.  I putted pretty well which allowed me to score the way I did as well as scramble when I needed to. Overall, it was a good few days and there was a lot I learned and can take going forward.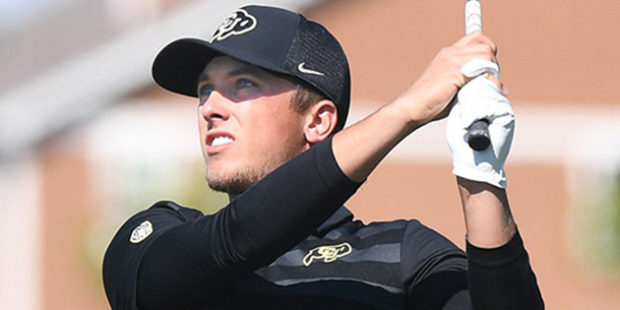 Colorado head coach Roy Edwards, who is a co-founder of the series designed in part to provide and opportunity for collegiate golfers to some competition between the fall and spring seasons, was especially proud of his sophomore's victory.
"The Saguaro Amateur win is a culmination of Trevor's continued development into an elite player," Edwards said. "He is a very hard worker who really understands how to play the game at a high level.  He is a tremendous competitor and can adapt his game to whatever he is doing best in his game.  This is a great win for him against a very competitive field."
Olkowski had won his first event as a collegian in September when he was the co-medalist in CU's own Mark Simpson Invitational. He was consistent here, scoring 16 birdies over the 54 holes (six in the second round, five in the other two) and 30 pars, with just eight bogeys.
With the win, he also was the 2018-19 Troon Saguaro Amateur Series Champion for his overall play in the three events, the Sizzler, Gobbler and Saguaro Amateurs.
Two other Buffaloes participated in the event; junior Andre Leveque of Windermere, Fla.tied for 44th (77-74-70—221, +5) and sophomore Cole Krantz of Windsor placed 82nd (75-81-73—229, +13).
INDIVIDUAL LEADERS
(109 competitors)
Trevor Olkowski, Grand Junction, Colo.  71-67-70—208
Sean Carlon, Albuquerque, N.M.              69-70-70—209
John Felitto, Mountainside, N.J.              73-70-68—211
Tyler Severin, Johnstown, Colo.              70-73-70—213
Sam Choi, Albuquerque, N.M.                 71-69-73—213
Koichiro Ishika, Tempe, Ariz.                   69-75-69—213
Jake Staiano, Englewood, Colo.              73-69-71—213
Pryce Beshoory, Pearland, Texas             71-71-71—213