The latest SUVs from Audi, Lincoln and Range Rover bridge the ride divide between cars and trucks.
By Isaac Bouchard
---
2018 AUDI A4 ALLROAD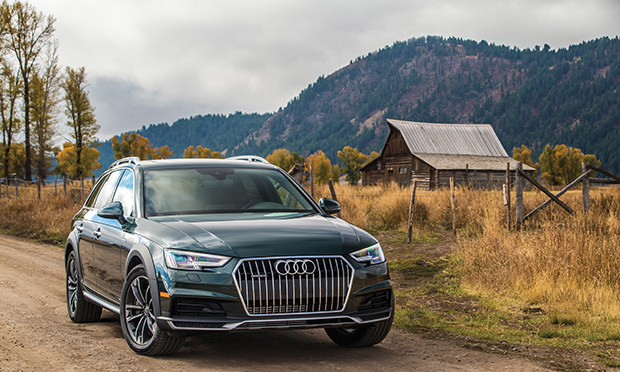 0-60mph: 5.3sec
Price as tested: $56,650
EPA ratings: 22/30mpg; 25mpg
With more than two-thirds of all new vehicles sold in the United Sates classified as light trucks, these vehicles increasingly now drive more like cars than ever before. This means we get their inherent benefits in utility, practicality and space without dynamic or efficiency compromises. Or so it goes in theory. In practice? Let's see…
Ever since Subaru jacked up a Legacy wagon in the mid-90s, most premium brands—including Buick—have a plastic-clad version of such some-where in their lineup. For its third generation of Allroad, Audi raised the A4 Avant wagon 1.3 inches, via taller springs and higher aspect-ratio tires, and installed adjustable dampers.
By and large, it is a terrific counterargument to vehicles with higher centers of gravity; the Allroad is responsive and smooth riding in a way a taller vehicle rarely is. The willing 2-liter, 252 horsepower engine makes for effortless performance and excellent real-world economy; 0-60mph takes just over five seconds and it is easy to get mid-20s in urban use.
In top-spec, Prestige trim, the Audi's interior is lovely, with the kind of material quality, disciplined design and superb interface systems (which includes the incredibly cool 12.3–inch Virtual Cockpit in place of conventional instruments) that makes most man-machine interfaces seem dated. Audi's latest autonomous driver aids are amongst the best of the breed and make daily commuting much more relaxing.
Back seat room in the Audi is tight com-pared to "real" crossovers and SUVs, but there's copious cargo volume for large objects or athletic gear. Better built, better driving and arguably better looking than the Q5 that will outsell it 10 to one, the Allroad is a compelling reminder of what brought European cars to prominence in the first place and the inherent advantages of a smaller, low-cg vehicle.
---
2018 LINCOLN NAVIGATOR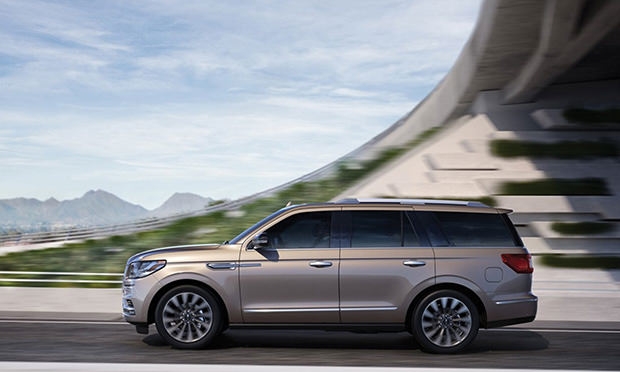 0-60mph: 5.8sec (est)
Price as tested: $98,645
EPA ratings: 16/21mpg; 18mpg combined
It is ironic that the Lincoln established the class that Cadillac came to dominate with the Escalade. Thankfully, the first all-new Navigator in well over a decade is a superb effort, redefining in many areas just how good a full-size, body-on-frame SUV can be.
The Lincoln's exterior design is polarizingly confident, and its interior—in Black Label trim at least—worthy of the hype. Most all materials are price-appropriate and the leather and wood are used to stunning effect. Optional 30-way adjust-able seats cozen the driver and front passenger in all the right ways, and the middle and third rows have more room than archrival GM vehicles, whether in short or long wheelbase form.
Its Sync3 is a solid infotainment system, generally quick to respond and intuitive, and the voice command system trails only BMW's latest. The head up display, which is visible through polarized sunglasses, doesn't always announce up-coming turns quickly enough when you use the Navigator's namesake function, but if you need to reroute, the Lincoln will still get you there on time, since its twin-turbo V6 is such a monster.
This latest serving of EcoBoost motivation comes in 3.5-liter size and outputs of 450hp and 510lb-ft, enough to run this rig to 60mph in the high five-second range and still provide class-average fuel economy.
Its ride quality compares favorably with most other full-size SUVs. The kind of spring rates and damping curves needed to tie down such a large, heavy machine in the corners leave the Lincoln relatively stiff-legged over normal, bumpy pavement. It jiggles at high frequency over many free-ways, no matter which of the settings the adjust-able suspension is placed in.
To be fair, the only vehicle of (almost) its size that tops it in this area is the Mercedes GLS. This Navigator gets most everything else just right. From the running boards that power out as you approach it to the updated midcentury design vibe that defines the interior, Lincoln has emerged with a vehicle so popular that it had to expand its factory to meet demand.
---
2018 RANGE ROVER VELAR

0-60mph: 8.5sec (est)
Price as tested: $75,415
EPA ratings: 26/30mpg; 28mpg combined
Range Rover pioneered the luxury SUV and this latest example of its oeuvre references that by utilizing the name of an early prototype. In every other way the Velar ranks among the most postmodern of crossovers, with its emphasis on style and technology.
Stunningly shaped inside and out, there are many delightful surprises on display, from the door handles that lie flush with the teardrop flanks until needed through to the Union Jack motifs stitched into the ventilated, heated seats and metal speaker covers. The Touch Pro Duo infotainment system is now near the top of the class, with twin, high-resolution screens, stunning graphics and pleasingly tactile controls that are meant to remind one of the focus ring on SLR camera lenses.
Although the Velar's main configurable instrument panel won't hold a setting once you've restarted the car, Range Rover has otherwise finally caught its tech up to the competition, and even surpassed it in some areas, such as the steering wheel-mounted controls that modify their labeling depending on what you need them to do.
The Velar, however, handles ponderously despite its aluminum body (shared with the Jaguar F-Pace, which rides in a similar fashion but handles better). It is far too much car for the available 180hp diesel engine option. Despite 317lb-ft of twist, the diesel needs to be flogged to keep up with traffic, which causes fuel economy to plummet into the teens from its amazing EPA numbers of 26/30mpg.