Seems like only yesterday the original Game Golf appeared.
By Tony Dear
---
It's four years since Game Golf was launched, dumbfounding tech-unsavvy golfers all over the world with its incredible powers of observation and data collection. You simply tapped the butt of your club, into which you'd positioned a Near-Field Communication (NFC) tag, against your hip on which was attached a sensor device, and hit a shot. Game Golf recorded every shot you hit and, following the round, you could view all your stats on your cell phone on to which you'd downloaded the Game Golf App. The system recorded your fairway accuracy, distance, greens-in-regulation, number of putts, sand saves, yardages and shot dispersion with each club, and allowed you to establish performance benchmarks, set yourself challenges, and share your stats online.
Golfers of a certain age would no doubt have been satisfied with that level of innovation for several years. But tech moves fast nowadays, of course. By the end of 2015, Game Golf Classic had been usurped by its successor – Game Golf Live (seen above, right) – which let you capture and view your stats in real-time on the course, and featured a GPS rangefinder.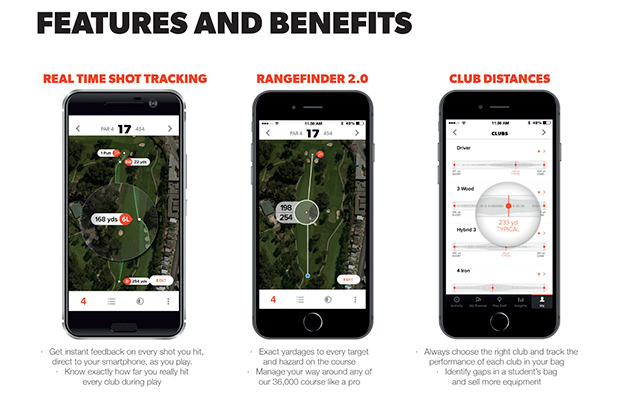 A few weeks ago in Orlando, the CEO of Active Mind Technology and founder of Game Golf, John McGuire, announced the third-generation product – Game Golf Pro. "We have addressed major points of feedback from golfers," he says. "You are able to use the new system without the need for your phone, and the shots are collected 'automagically' (yes, an actual word defined as 'In a way that is hidden from or not understood by the user, and in that sense, apparently 'magical')."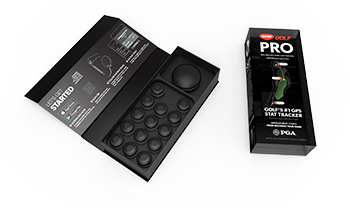 Game Golf Pro uses the same high-power sensors being used in the auto industry by manufacturers such as Tesla. "We felt it necessary to use more advanced sensors than what is used in consumer devices to deliver a truly seamless experience," says McGuire. "So powerful hardware combined with machine-learning algorithms are at the core of Game Golf Pro."
Unlike earlier iterations, there's no need to tap the Game Golf tags on your clubs to the hip device. All you do is play golf, and every shot, distance, and club used is automatically tracked. Game Golf Pro can distinguish between practice swing and real swings, and has its own battery and GPS included so you can leave your phone at home, saving you data and battery life.
"Game Golf has the largest dataset of on-course usage in the industry," says McGuire. "Algorithms are only as accurate as the size of the dataset they run against. We have over 60 Billion GPS data points of how golfers are traversing golf courses."
In addition to its now-standard game-tracking capability, and GPS rangefinder, Game Golf Pro goes where its predecessors couldn't with three entirely new features–Smart Caddie, Intelligence, and Coaches' Dashboard.
Smart Caddie analyzes your previous performance, and makes recommendations for every shot you hit.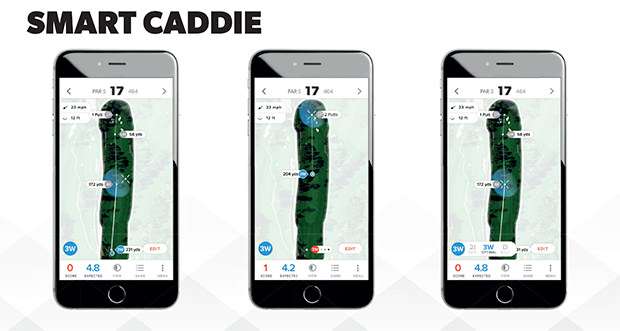 "Competing systems only advise you on how to play a hole," says McGuire. And Smart Caddie proves just how smart it is by basing its recommendations not only on your game but also the weather and elevation.
Coaches' Dashboard was developed alongside the PGA of America and gives a quick overview of what is happening on the course for the golfer and coach. "It allows you to accurately determine the parts of your game that need improvement," says McGuire, "and it makes it easy to share your data with your PGA Professional."
Game Golf Intelligence gives courses a tool that enables them to reduce maintenance costs, increase pace of play, improve course set-up and playability, and make courses safer.
"By drawing on our database of more than two-million rounds, Game Golf Intelligence makes it possible for course owners, club management, superintendents and golf architects to respond to how golfers are actually experiencing their course," says McGuire.
The Game Golf App is free and can be downloaded to any iOS or Android phone or smart watch (Apple & Pebble) at the company's web site. The Game Golf Pro NFC sensors will be available sometime in April and cost $300.
Learn more at gamegolf.com.
---
Colorado AvidGolfer Magazine is the state's leading resource for golf and the lifestyle that surrounds it, publishing eight issues annually and proudly delivering daily content via coloradoavidgolfer.com