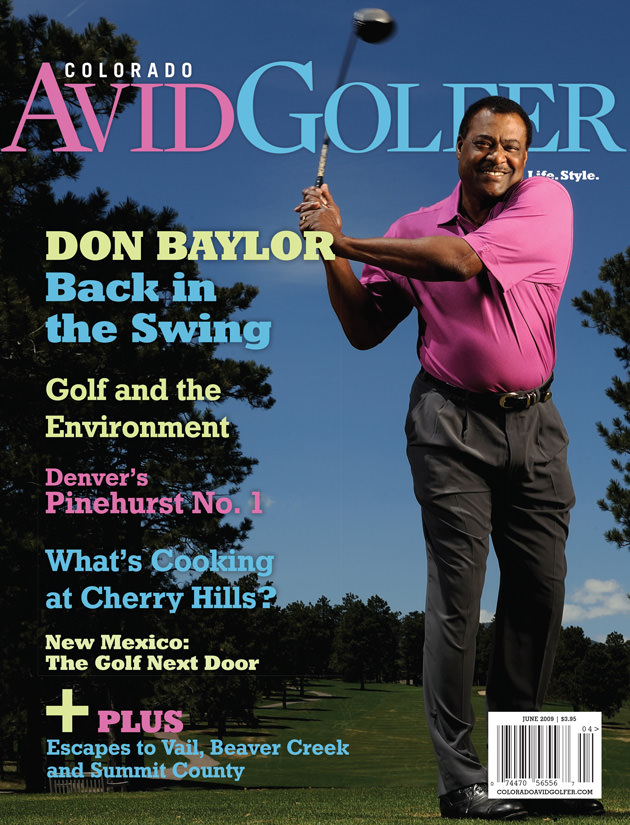 (Editor's Note: This article appeared in the June, 2009 issue of Colorado AvidGolfer. Don Baylor passed away August 7, 2017.)
A decade and a diagnosis later, Don Baylor returns to the Rockies bench and to the courses of Colorado.
By Lynn DeBruin | Photographs by Steve Nowland/Rich Clarkson & Associates
Never mind that he was at Hiwan Golf Club, not inside Coors Field. When Don Baylor saw his playing partner's short popup splash into a pond, the coach in him emerged. One minor tweak later and Paul Egins was unleashing his best drive of the day— 260 yards into the wind, right down the middle of the 7th fairway.
"That will be $135 for the lesson," Baylor quipped, eliciting laughs all around, Egins included.
"That one little thing helped me so much," said Egins, the Colorado Rockies director of major league operations. "I was just messed up."
On this picture-perfect spring day in the Colorado foothills, that was about the only thing messed up. It was a rare off day for the Rockies and Baylor knew exactly how he wanted to spend it—playing golf. It's what the former American League MVP and first manager in Rockies history did a few years ago when he found himself out of professional baseball for only the second time in 39 years.
"I'm going to work on my golf game and see what happens," he told Golf World at the time.
And did he ever work on it.
"I hit every good place there is," says the soft-spoken slugger with the build of an Ernie Els. He played Whistling Straits, Pine Valley, Bethpage Black and Medinah. He teed it up at Porcupine Creek in Palm Desert, Shadow Creek in Las Vegas, and headed north to Silverado—getting his handicap as low as 8 in the process.
And even though he's now back in baseball, and in a Colorado Rockies uniform, having come full circle as Clint Hurdle's hitting coach—the same job for which Baylor hired Hurdle in 1997—the man players call "Groove" still knows where he can relax.
"Greg Norman made a statement that I thought was pretty right on. He said, 'Every time I go to my office, how can I be upset? I see all this nice grass.' It's relaxing to kind of get away, and develop friendships with a lot of people.
"Playing golf, you know who the cheats are, those who kick the ball….It's just a humbling game when you start kind of late."
Baylor did start late. Though he attended the same Austin, Texas, junior high and high school as Ben Crenshaw, he didn't play golf.
"Baseball, football, basketball—he was just a fabulous athlete," Crenshaw says of Baylor, who is two and one-half years his senior.
"My brother and I were lucky enough to grow up with Don and his younger brother, Doug."
Crenshaw doesn't doubt that Baylor would have been a pretty good golfer had his chosen that as his profession. But he was most impressed with his intangibles: "He is a leader and all the kids followed him," says the two-time Masters winner. "He set such an example."
Segregation during the 1960s also kept Baylor from picking up the game. "Right across the street from the junior high that I integrated—O. Henry Junior High—is a golf course," Baylor says of Morris Williams Golf Course, the one-time home of University of Texas golf teams that featured Crenshaw and Tom Kite. "But blacks weren't allowed."
It didn't bother Baylor, who at the time "was fighting to try to get into a football uniform" at Stephen F. Austin High School.
His talent at tight end and safety prompted legendary University of Texas coach Darrell Royal to offer Baylor a scholarship to play at Texas, making him the first African- American to play football for the Longhorns.
Instead, Baylor chose baseball, going on to a 19-year Major League career during which he hit 338 home runs, had 2,135 hits, won the 1979 American League MVP award and played in three consecutive World Series with three different teams—the Red Sox, Twins and Athletics.
He later would manage the Colorado Rockies from their inception in 1993 through 1998, and along the way promoted Hurdle to hitting coach. When Hurdle revamped his staff this off-season, he returned the favor.
"It was the right guy at the right time and the right place for our hitters," Hurdle says. "But I do get a kick out of life and I do believe this is one of the neat ironies in life."
"I'll do what I can here," says Baylor, who also managed the Chicago Cubs between 2000 and 2002 and last served as a hitting coach for the Seattle Mariners in 2006.
"There's some guys I really want to help, that I know I can help." He admits the slow start has been a bit frustrating. "You get one guy fixed and another breaks down. That's the thing about coaching," he says, calling the offense "a work in progress."
He knows his presence in the dugout further fuels speculation about him replacing Hurdle. "I don't even entertain the thought," he says. "Clint has done something that I hadn't done—he took a team to the World Series. For him to give me the opportunity to come back here, I don't even allow myself to think about that. I hurt for him when we lose because I've been in that seat before, when teams start out slow and that's all they talk about."
Baylor, who turns 60 this month, also acknowledges times are different than when he was a 21-year-old rookie with the 1970 Baltimore Orioles.
"When I walked into the clubhouse, I was the youngest guy there," he says. "These guys are all getting younger, but they seem a lot more mature."
Further informing to Baylor's perspective is a 2003 diagnosis of multiple myeloma, a blood cancer that was discovered with routine tests during spring training.
He'd endure half-a-dozen painful bone-marrow aspirations, ("I've been hit by a lot of baseballs, but that…was painful," says the man who got plunked 279 times) and spend an entire year gearing up for a stem-cell transplant.
Though the procedure knocked his white cell count down to zero and kept him indoors for 17 straight days, it proved successful—allowing Baylor to add the word "survivor" to his potential Hall of Fame credentials and enjoy the thrill of becoming a grandfather in October.
Bimonthly blood tests show he is cancerfree, giving him a second chance at baseball and golf, a game he still enjoys on off-days or even the morning before a night game.
"When I first saw Jimmy Rice hit a golf ball, I was like, 'Wow,'" Baylor says of his former Red Sox teammate and Hall of Fame inductee.
Equally impressive was seeing Rice get up early after a night game to play a round. "He'd be back at the hotel by 10:30 or 11 and come to the ballpark."
Baylor finds himself doing that occasionally this season, playing mostly at Hiwan in Evergreen.
"You look like you could still hit it over the fence," one golfer remarked as Baylor warmed up last month. And he can, smacking the ball 300 yards at altitude despite an arthritic hip.
For a big man, he has a surprisingly good short game. He's also patient, a trait that shows itself when playing with co-workers fairly new to the game.
Yes, he still is competitive as he was during his playing days, adding books from Dave Pelz, Jack Nicklaus and Raymond Floyd to his library. But he readily admits, "This is not my profession."
In other words, hit a bad shot, move on, and keep moving.
"He will stay out there and play; it doesn't matter what the weather is doing," his wife, Becky, says of a husband who got hooked after starting a Cystic Fibrosis charity tourney more than 30 years ago. "He has the mindset that if you tee off, you're playing 18 holes."
Baylor's job is to help the Rockies hit, not hit the links. Of course, he knows that failure to achieve the former will result in more time for the latter—but that's not how he wants it.
He figures he'll get his fill of golf during the off-season, with a home on the private Nicklaus course at PGA West in La Quinta, Calif.
He has a cart in the garage and a ready playing partner in Becky, who didn't take up the game until the baseball strike of 1994 but nonetheless has recorded two aces.
"She reminds me of it all the time," he says with a laugh. It just gives him one more goal to shoot for.
Lynn DeBruin is a CAG contributing editor.
This article appeared in the June, 2009 issue of Colorado AvidGolfer. Don Baylor passed away August 7, 2017.