If new Broncos signal-caller Case Keenum can move the Broncos down the field the way he moves a golf ball down the fairway, the team will be in the hunt come January.
By Sam Adams
---
Case Keenum stood over a two-foot putt at Edgewood Tahoe Golf Course during a round of golf—an experience that hardly matched the grueling pressure of playing in an NFC Championship Game six months earlier. The situation, however, was far from relaxing.
With stargazing eyes of a full gallery upon him at the annual American Century Championship, the Denver Broncos' new starting quarterback inexplicably rolled away from the pocket, missing his open target. 
"I tried to tap it in," said Keenum, recalling his embarrassing moment with a Scotty Cameron putter. "It's the one that we'd give each other—you know, 'that's good.' But I just yanked it, and that made me pretty mad."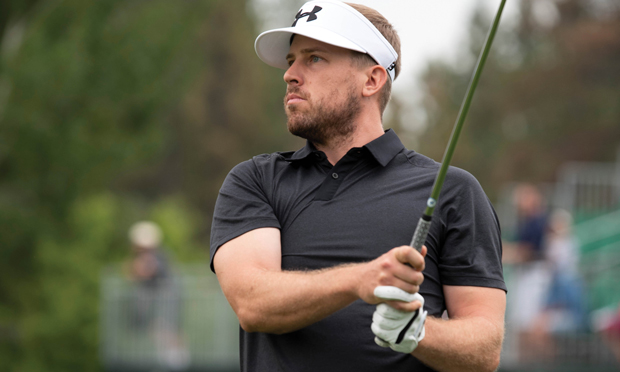 Finishing tied for 24th (with 40 points in the Modified Stableford scoring system) was not bad for Keenum, a 2-handicap, considering it was his first appearance in the celebrity tournament. The missed putt reminded Keenum of where his game needs work. "I need to get my putting better. That's a big deal," he said. "I think my ball striking is pretty good."
Kimberly Keenum, who met Case while both attended Wylie High School in Abilene, Tex., walked the Tahoe course with her husband of seven years while her brother Brian served as his caddie. "I don't think he knew what he was in for," Case said.
Keenum was one of five NFL quarter-backs to finish among the top 25 in Tahoe. Former Dallas Cowboys QB Tony Romo won the tournament. Super Bowl champions Trent Dilfer, Mark Rypien and Aaron Rodgers also finished ahead of Keenum.
When asked why quarterbacks seem to be such good golfers, Keenum paused, smiled and said, "Maybe it's the skills mastery part of it, just the part where we just want to be perfect. I'm kind of that way with anything. I like to try things until I get it, and I always want to be a master.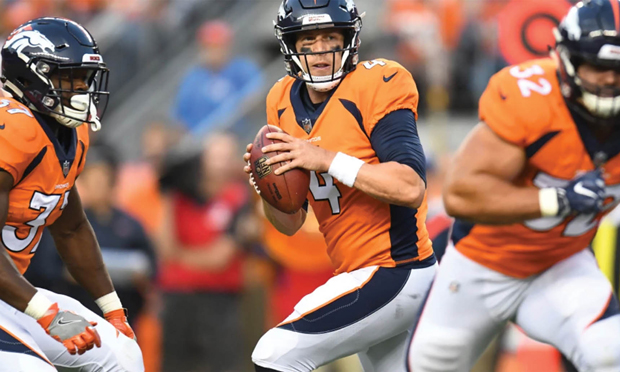 "Golf is one of those crafts, one of those skills that you never really all the way master. There's always more to it. But I just love playing golf. I love the getaway it is for me. I love that in the offseason it's a great hobby. It gets me outdoors, gets me active … Man, it totally engrosses my mind. I can only think about golf when I'm playing. I'll talk in between shots, but golf just resets my mind."
Those moments to reset the mind on the Tahoe golf course are some of the precious few Keenum would have for relaxation before the beginning of another NFL season, and the start of Broncos training camp, where his new coaches, teammates—and fans—would anxiously await to analyze his every throw. 
Keenum replaced injured Vikings starter Sam Bradford early in the 2017 season, and led the team to 11 wins in his 14 regular-season starts. He finished with 22 touchdowns, while completing 67.6 percent of his passes—ranking second in the NFL only to New Orleans Saints' star Drew Brees.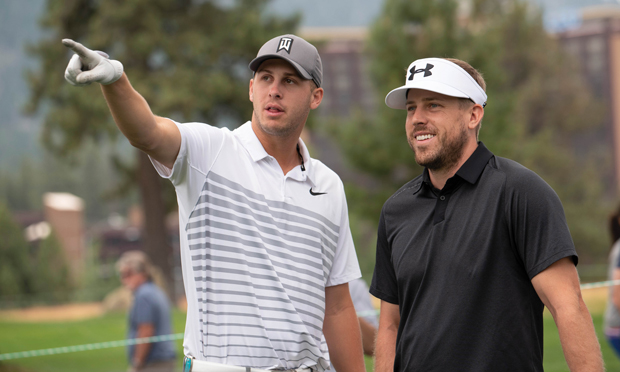 Keenum and the Vikings dramatically beat Brees and the Saints, 29-24, in last year's playoffs, on the "Minnesota Miracle" —a 61-yard touchdown catch-and-run to Stephon Diggs with no time remaining. The Vikings would go on to lose the Conference championship game, 38-17, to the eventual Super Bowl-champion Philadelphia Eagles, but Keenum came away a winner during the off-season free-agent signing period. He received a two-year contract with the Broncos, a deal worth a reported $36 million.
Keenum, who was named an offensive captain before the Broncos' season-opener against the Seattle Seahawks, showed throughout training camp that he can provide a much-needed boost to a Broncos passing offense that has experienced a steady drop—from 248 yards per game in 2015 to 208 in 2017.
In coming to Denver, the Texas native has marveled at Colorado's incredible terrain, but he knows the challenge lies in climbing Mount Elway and Peyton's Peak. Intense scrutiny blankets every Broncos starting quarterback. Fans expect them to play up to par every possession of every game. It's Von Miller-like pressure from fanatics and critics that can make a quarterback really uncomfortable.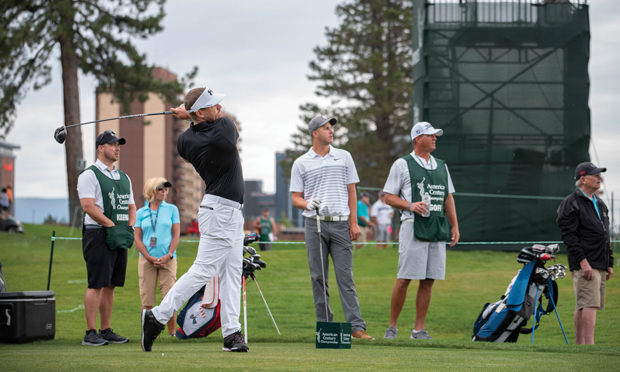 "I think playing quarterback anywhere is a big deal," Keenum said. "Usually, as you go, the team goes. But here there's definitely a history and tradition of great quarterback play. I'm reminded of that daily when I walk in the building and see John Elway's poster up there.
"It's a big job, a tough, tough job. Once I got here I realized it. More so, that Elway is the GM. He's running the ship and it'd be cool to come play for him. And (Gary) Kubiak is in the building. Billy (offensive coordinator Musgrave), Mike (quarterbacks coach Sullivan) … guys that have a great history of working with great quarterbacks. That was more important than necessarily being a Broncos quarterback because John and Peyton had played here before."
Kubiak, now a senior personnel advisor for the Broncos, was head coach of the Houston Texans when the team signed Keenum as an undrafted free agent in 2012. He'd played collegiately at the University of Houston, where he won two Conference USA Most Valuable Player awards and set several NCAA career passing records that still stand today—including most touchdowns and passing yards.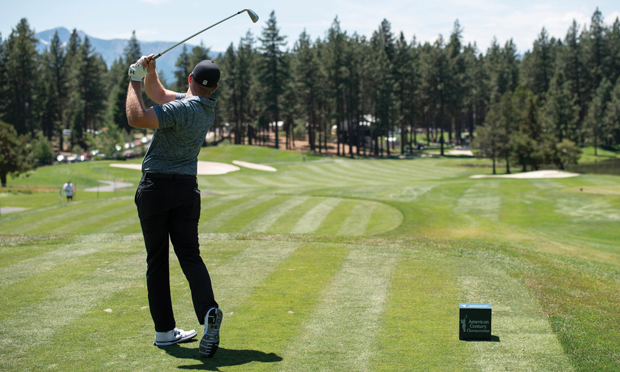 While preparing for the NFL Scouting Combine, Keenum spent a fair amount of time on the links with members of the University of Houston golf program. Jonathan Dismuke, who is director of golf and men's golf coach at U of H, said Keenum could've made the Cougars' golf team if he'd more time to devote to the sport while in college.
"The one thing I'll tell you is, I'm not going to tell Case he's not good enough because he's proven people wrong in that regard—whether it's football or anything," Dismuke says. He and Keenum have played rounds together frequently.
"Physically, I believe had he spent the amount of time playing golf that he did playing football … absolutely he could've played at the Division I level, and potentially maybe played professionally.
"He's extremely competitive and always is wanting to know how he can get better. It's not okay for him just to be good in whatever it is he's doing. He's going to pursue mastery, try to improve technique and his overall ability. He wants to get a simulator in his house so he can practice in the winter because he's always trying to get better."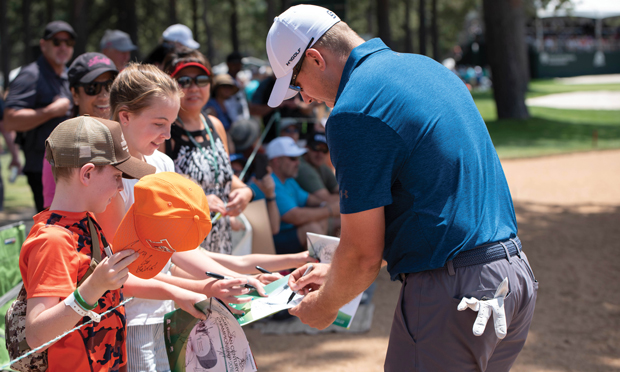 The trail of greatness left by Manning and Elway has proven to be intimidating for others to follow on the football field. On the putting greens though, Keenum has held his own against both gridiron greats.
"They've asked me to play a few times," Keenum said. "It's always competitive. It goes back and forth—those guys are really good golfers. 
"And I'm trying to keep my day job, you know? Playing golf with your boss, you can't play too well."
As a youngster Keenum learned to play golf in the Texas heat by going out on municipal courses with his father, Steve. "He's the golfer … I'm the duffer," said Steve Keenum, who is a former high school and college football coach who has channeled his time into serving with the Fellowship of Christian Athletes (FCA).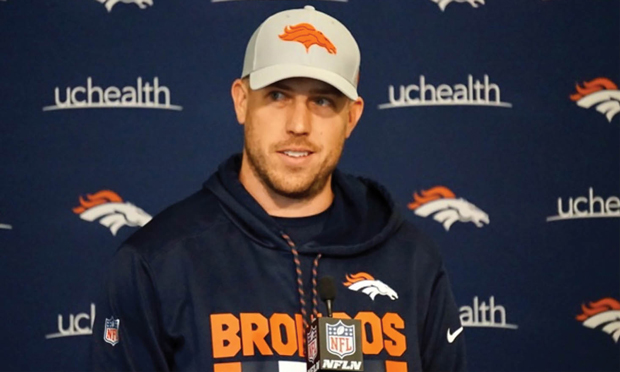 "Case is God-gifted athletically. I'm an old offensive lineman so I have to overcome a lot. But we would play in Alpine, Texas, in the Davis mountains of the Chihuahua Desert. It's kind of arid, but a nice little course. We got him some smaller clubs to swing. When I'd hit one that I didn't like, he'd chase it and I'd let him hit it. That's how he starting playing. And then we played off and on as he started growing up. He got into high school and decided he wanted to play on the golf team. So his senior year he played golf."
When the two get together now for a father-son round "I give him some strokes, and let him play from the up tees," Case Keenum said.
"He makes a birdie or two every now and then, still shows me how it's done."
Like his father, Keenum is actively involved with the Fellowship of Christian Athletes FCA. His faith-based book, Playing For More: Trust Beyond What You Can See, was released in September. He explained its title before moving onto his next interview.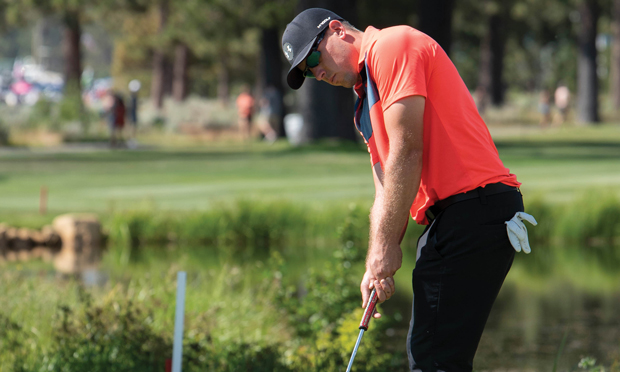 "I'm playing for more than just winning, more than breaking records or winning championships," Keenum said. "I'm playing more than providing for my family. I'm playing for more than just trying to make a name for myself. I want people to know that I'm a Christian first and I just happen to be a football player. I'm playing, honestly, first and foremost, to glorify Him in all that I do. 
"As long as I'm striving to do that, I think all the other things fall into place." 
It doesn't matter if he's clutching a putter or gripping a football, Keenum always maintains a firm belief that he will be successful. After a dismal finish in 2017, the Broncos are holding faith that Keenum is the right quarterback to lead them back into the ranks of Super Bowl contenders in 2018.
As of press time, the team's record behind the 2-handicap was 2-0.
---
Contributor Sam Adams is an award-winning journalist and standup comedian. This article appears as a feature in the Fall 2018 issue of Colorado Avid Golfer.
Colorado AvidGolfer Magazine is the state's leading resource for golf and the lifestyle that surrounds it, publishing eight issues annually and proudly delivering daily content via coloradoavidgolfer.com.
Looking for a coach? Take advantage of this EXCLUSIVE GOLFTEC DEAL for Colorado AvidGolfer readers.