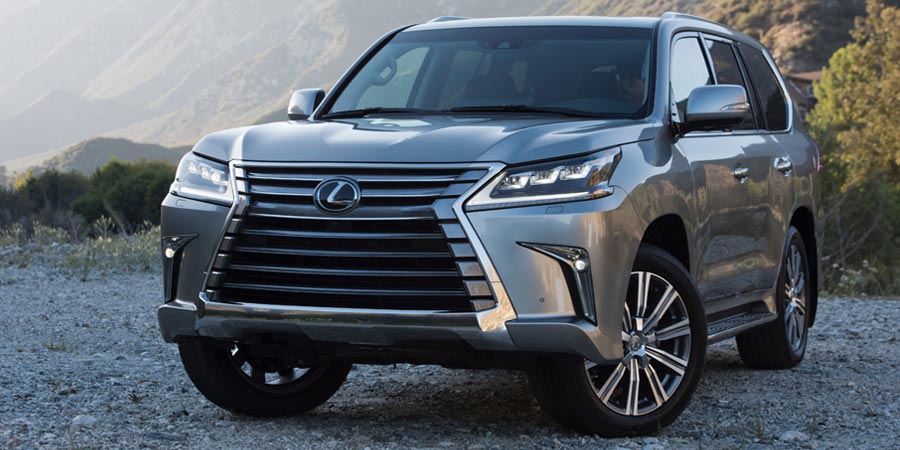 By Isaac Bouchard
Imagine a movie trailer-like voice over:
"In the aftermath of the global climate's total meltdown and the seas rising two feet, world governments collapse. Most societies revert to feudalism-like hierarchies and only the richest—or most prepared—seem to prosper"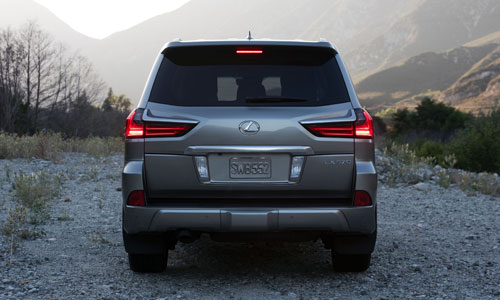 The imagery is stark. Post-apocalyptic hovels and raggedly clad serfs toiling in litter-strewn streets, choked with the detritus of a devastated society. But there is still one sign of the apogee of former civilization: A Lexus LX570, its still-glossy paint mud-spattered, carefully tip-toeing through the muck. Its dyspeptic on-road manners matter little here; instead what counts is its stone-ax reliability and that its underpinnings are based on the Toyota Land Cruiser, one of the toughest off-road vehicles ever created. Multi-Terrain Select, Crawl Control and other sophisticated electronic systems allow its tires, which wrap polished, 21-inch wheels, to find purchase. Its massive maw and blazing LED lighting signal that a lord of the new realms of man has arrived. Styling changes the company made back in the halcyon days of the Western world's dominance not only kept it in line with Lexus' other offerings but also removed the last vestiges of 1970's family wagon looks that had undermined its regal presence.
Inside the Lexus all is as it should be for a man of his station; the semi-aniline leather on the four, throne-like seats has held up well, and the missing third row helps make room for more supplies and tribute. That the dash molding isn't cowhide doesn't matter in this world; its hardness is masked by a layer of gritty dust anyway. The huge, 12.3in screen that it surrounds has graphics that are easy to read, and the solid ingot of aluminum in which the analog clock is placed (whose GPS-sync has long since become redundant now that Daylight Savings Time has been consigned to the dustbin of history) reminds lucky occupants of the lord's Lexus of his authority. They'll also revel in the climate-controlled seats, which are tied into the climate control system so as to maintain a perfect temperature regardless of the radical changes happening outside.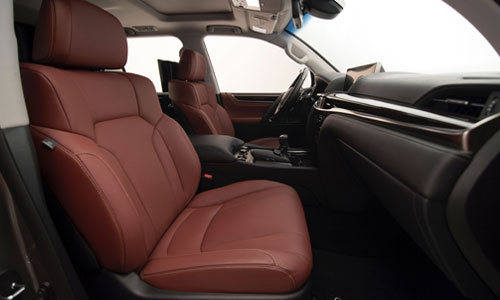 That the LX570's V8 eschewed turbochargers, 48-volt electronics or other overly complex doodads is a huge asset here; its 5.6-liters of normally aspirated capacity generate 383hp and 403lb-ft of torque, channeled through a solid 8-speed automatic transmission and full-time all wheel drive mean it can still escape bandits with ease, yet doesn't require a former rocket scientist to keep it running. The brake dive and body roll that would have once marked it down against German or English competitors—that have long succumbed to electronic or mechanical gremlins—mean nothing once it's transfer case has been put into low range. Turn Assist, which drags a rear wheel, allows the Lexus to navigate a path around the tight switchbacks that guard the approach to the lord's survival shelter, perched high above the rocky plains that are the habitat of lesser men. And its Active Height Control adjustable air suspension makes it possible to traverse the boulder-strewn fire roads that lead to some of the lord's holdings as well as making entry and exist easier for his armed security escort, who now bear the title of "knight."
Dystopian? Of course! Yet there is truth in the tragic comedy of this vision. There are few SUVs made today that have the hewn-from-solid mien of the LX570 and fewer still that have the Toyota Land Cruiser-based track record to be considered true longterm partners if the wheels ever come off and it all goes pear-shaped, big time.
EPA Ratings: 13/18/15mpg
0-60mph: 7.0sec (independent test)
Price as tested: $88,940
Here is what Lexus has to day.
[usr 2.5]
---
Colorado AvidGolfer Magazine is the state's leading resource for golf and the lifestyle that surrounds it, publishing eight issues annually and proudly delivering daily content via coloradoavidgolfer.com.