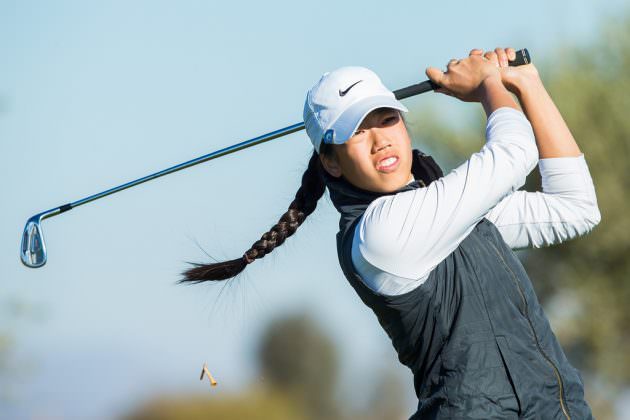 Andrea Wong of San Francisco fired an impressive 6-under par 66 in the morning wave to lead by one stroke over two players before an hour-long lightning delay prevented completion of round one at the $150,000 CoBank Colorado Women's Open at Green Valley Ranch Golf Club in Denver.
Wong, a 2016 graduate of UC Davis who plays on the Ladies European Tour, made seven birdies and one bogey to lead Gabrielle Shipley of Hastings, Mich. and Liz Breed of Waynesboro, Pa. by one after both women posted 5-under 67.
Tied for fourth, another stroke back at 4-under 68, is LPGA veteran Wendy Doolan of Lakeland, Fla. and Karlin Beck of Montgomery, Ala, who is 4-under thru 12 holes. Another stroke back and in a three-way tie for 6th at 3-under 69 are Colorado superstar and world #3-ranked amateur Jennifer Kupcho of Westminster, Lacey Fears of Bonaire, Ga, and Alexandra Kaui of Las Vegas.
In the low-amateur competition, Kupcho (-3) leads by three over 2016 low-amateur champion Jessica Dreesbeimdieke of Juno Beach, Fla, and Maggie Cowart of Braunfels, Tex. (both of whom play for University of Denver) and Baylee Price of Broken Arrow, Okla., who plays for Northeastern State University.
In the pro-am competition, Team Stonebridge Cos. leads by one stroke after posting an impressive 10-under 62 in the afternoon wave under windy conditions. Alone in second a stroke back at 9-under is Team KPMG. Amateur Sara Swaney of that team made the shot of the day with her second career hole-in-one on the par-3 17th using a 9-iron from 133 yards.
In total 42 players plus ties in the championship field will make the cut after Thursday's second round with 13 pro-am teams plus ties making the cut and advancing. The winning professional of the championship will take home the $50,000 first prize, the largest non-LPGA winner's check in the country.
Click here for complete results from today's round.