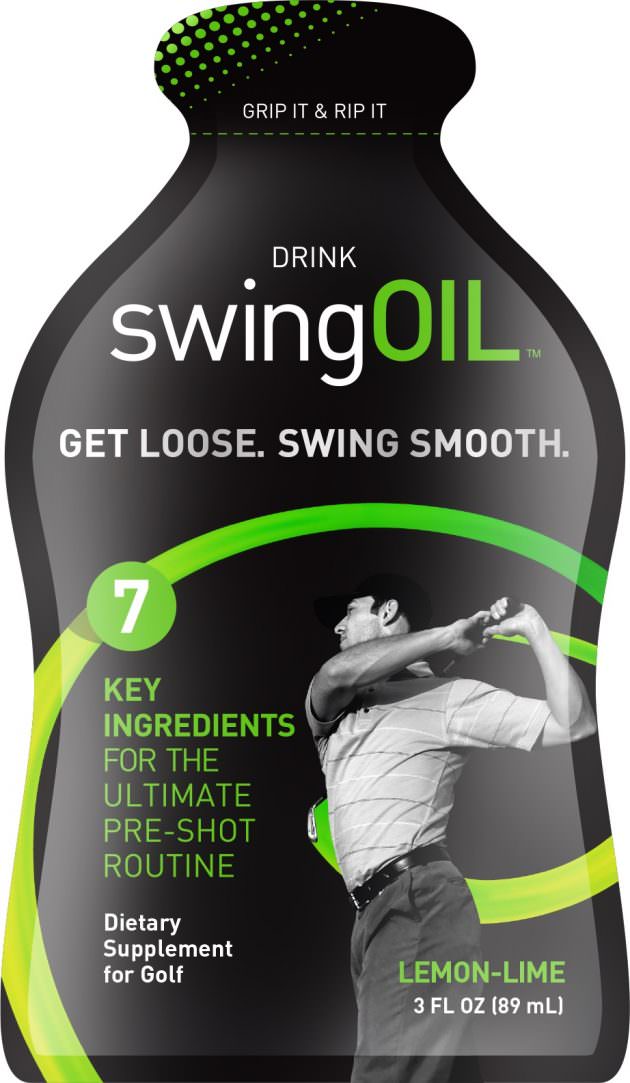 Natural Supplement Might Be a Game Changer
By Chris Duthie
There's ample evidence that golf is a physically and mentally demanding recreation. This is especially evident when the thermometer rises or falls, when targeting fairways and greens becomes increasingly difficult, when the level of competition rises, and when stamina and flexibility are heading toward a freefall.
And nowhere is that better demonstrated than mid-round when, after a few hours of heated play, we need our "A" game to keep bogeys and dreaded others from scorching the scorecard.
Sound familiar? Then perhaps swingOIL should be part of your golf routine.
SwingOIL is a ready-to-use liquid supplement specially formulated to promote flexibility and focus. Each three-ounce shot — which comes in lemon-lime, orange and strawberry-banana flavors — is packed with seven "get loose and swing smooth" ingredients including:
1) Glucosamine and 2) Chondroitin, for connective tissue and joint lubrication;
3) Turmeric, to address inflammation;
4) Taurine, a low-calorie, sugar-free pick-me-up;
5) Citrulline Malate, for speedy recoveries;
6) Ginseng Extract, for mental focus; and
7) Rhodiola Rosea Extract, to lessen stress.
PGA Tour champion Jason Day swears by the stuff: "I drink swingOIL every day because of what it does for me. And it tastes terrific. I feel great. Every golfer should get into the swingOIL routine."
PGA Champions Tour titlist Kenny Perry echoes Day's comments: "I'm normally pretty stiff when I'm playing golf. These guys aren't paying me…but I'm telling you what, it worked for me this past week. I felt amazing out there."
Superstar endorsements are all well and good, but nothing compares to a personal test of the product. A few weeks ago I had an opportunity to see if swingOIL could perform as advertised—and much to my great surprise, it did.
First, for decades I have been physically unable to play more than an 18-hole round a day (and never more than three days in a row). But for 45 swingOIL-lubricated holes, my 60-year-old, scoliosis-challenged spine played pain-free. I was definitely ready and able for more golf.
Second, my hypersensitive, IBS-prone stomach normally doesn't take kindly to supplements. Yet not once did I sense any ill effects from drinking swingOIL—before, during or after golf.
Third — and this is where it got fun — I maintained phenomenal flexibility, focus and energy throughout the entire round. I even carded a few birdies on the critical-mass homestretch, giving me better finishes and more positive vibes than I've had in years.
I wholeheartedly recommend swingOIL. It's like a where-have-you-been-all-my-life secret weapon. See if it doesn't perform for you, too.
SwingOIL is available online for 12-pack ($35) to 60-pack ($159) multi-flavor options. A four-pouch trial pack ($10) is available once per customer. Shipping is free. For details, go to SwingOIL.com.
RELATED LINKS
Try the Decade Course Management System
Emily Talley's Confidence-Building Workout Routine
Chris Duthie is a Durango-based contributor to Colorado AvidGolfer. Colorado AvidGolfer is the state's leading resource for golf and the lifestyle that surrounds it, publishing eight issues annually and proudly delivering daily content via coloradoavidgolfer.com.