The Leading Edge
The Denver Four Seasons' signature restaurant heads a list of haute hotel eateries
by Gary James
---
The standard hotel restaurant used to get a grim prognosis, an operation kept afloat by expense-account dinners or, worse, out-of-town tourists like the rube who asked about the time of meals.
"Sir, breakfast is served from 6 to 10, lunch from 11 to 3, and dinner from 5 to 10."
"Well," he replied, "when am I going to get time to see the city?"
The dining places of big hotels invested in lavish breakfast buffets, high tea and/or swanky lounges. But now, with so many choices for world-class establishments and chefs in Colorado, hotel restaurants have now become destinations of their own for the hottest fine dining. Case in point: Edge, the signature restaurant of the Four Seasons Hotel in Denver.
---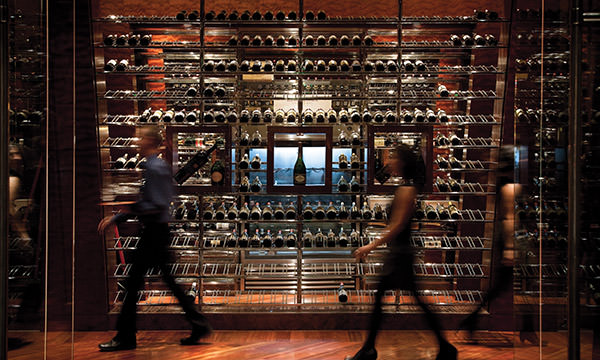 ---
"Twenty years ago at a Four Seasons Hotel, you had to wind through the lobby, go up a set of stairs or an escalator, and enter a posh dining area that had the Four Seasons brand on every napkin, server uniform and so on," notes Edge's Restaurant Chef Zachary Rozanski. "It's a different experience now."
That ethos is reflected from the direct entrance from the street to the gourmet cuisine. Executive Chef Simon Purvis has developed menus all over the world (he's from Portsmouth, England), and upon his arrival at Edge, he immersed himself in progressive Colorado cuisine—the beef and lamb is Colorado-ranched, fish is from Alamosa, and much of the fruit is from the Rocky Ford Valley. Rozanski worked his way up from line chef to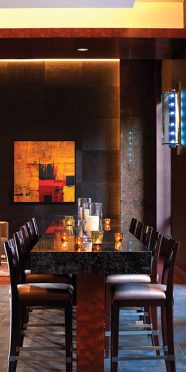 now running the kitchen.
You'll be happy with any table in the modern, open space (especially near the large picture windows), but you're better served by asking to be seated in Alan's section. He's been at Edge since the restaurant opened in 2010, and his first-rate service provides a knowledgeable complement to the masterful culinary creativity.
You get to cook Edge's signature 900-Degree Hot Stone appetizer yourself. The rounded stone is set in an oven overnight so it reaches said temperature; you dunk a bite (your choice of four or eight pieces of wagyu beef or ahi tuna) into an imported cherry blossom shoyu and sear it on the stone. The Lump Crab Cake, served with marinated cucumber and sweet chili butter, is seasoned and cooked to perfection. "No filler" crab cakes don't exist, as a little bit of "glue" is needed so they stay together; Edge goes for the absolute minimum.
But the appetizer that reigns supreme is the Spanish Octopus Terrine. A wonderfully pungent squid ink aioli is spread on a large platter, with dollops of smoked romesco (the roasted red pepper and toasted almond sauce originating in Northeastern Spain) and some watercress and fennel for color and texture. In the center is a hub of tender pulpo parts (okay, tentacles), sliced and perfectly charred. Alan paired it with a glass of Albarino, one of Spain's tastiest white grapes.
The exceptionally good Edge Caesar salad gives a nod to contemporary style, with a fresh mix of romaine, lemon, garlic and Parmesan cheese, a razor-thin slice of focaccia replacing the croutons—and a white anchovy dipped in a tempura batter and deep fried (no "yuck" allowed—you need that little zing).
The inventive dinner options are beef-heavy—Edge is the uncommon restaurant serving a classic Kansas City strip (basically, a bone-in cut from the short loin). All of the custom dry-aged steaks are grilled over pecan wood, another rarity in Denver.
"We get our wood from Texas," Rozanski said. "When the pecan nuts are harvested, we buy up the wood from the trees that are cut down and replanted. We've tried different types of wood, but this is the right stuff—milder than hickory, and it burns cooler than most other woods."
You get the same subtle fruity flavor of the pecan wood by ordering the Dry Aged Pork, a savory chop brightened up by a magical accompaniment of sweet wild berries, served on a bed of fingerling potatoes (slightly smashed and flash fried in duck fat) and topped with a little crumble of pie crust. If you're into a piscatorial pleasure, the Miso-Glazed Black Cod, served with shitake mushrooms and baby bok choy, is a sweet variation on the Nobu-style recipe.
There are some killer sides, too, from Lobster Mac & Cheese to Purvis' updated take on Bubble and Squeak, a mashed potato dish. "It's his way of honoring his home country," Rozanski explains. "It's so named because when you fry mashed potatoes, it bubbles and hisses along the edges because there's no other way for the heat to escape. The traditional recipe comes from leftovers, so we cook up small bits of onion, celery and carrot."
That superb dish was typical—from beginning to end, every moment of the meal was memorable. Don't be tethered to the lodging and miss out. Edge is an essential Denver dining experience.
---
Brown Knows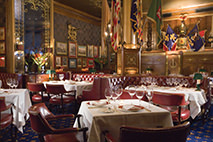 Fine dining at Palace Arms, at the Brown Palace Hotel in downtown Denver, implies quality over quantity. But there's nothing like the posh, old-world atmosphere—the conversation of your dining companions can be heard!—and oenophiles can lose themselves in the extensive wine list, one of the largest anywhere (and a recipient of "Best of Award of Excellence" from
Wine Spectator). brownpalace.com
---
WYLD Life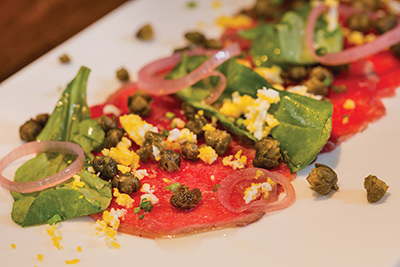 WYLD, the upscale, rustic hotel restaurant in the Ritz-Carlton at the base of Bachelor Gulch ski slope in Avon, is so named for its location on the "edge of wild." Signature dishes include an open-face lamb dip (shaved Colorado lamb, horseradish cream, crispy onions and au jus) and toasted grilled cheese (with Haystack chili jack, vacherin and fontina cheeses, paired with a tomato soup shooter). Open daily for breakfast and dinner. ritzcarlton.com
---
Four-peat
Elway's, named after the beloved Denver Broncos Hall of Famer, is the swank restaurant at the Ritz-Carlton in downtown Denver (other locations include the Lodge at Vail, Cherry Creek, and DIA). The reputation of the elegant chophouse is based on hand-cut, aged USDA prime steaks, supplemented by other killer entrees—Colorado rack of lamb, King Canyon buffalo rib eye and the signature Smash Burger. elways.com
---
 Star Power
Penrose Room, the elegant eatery atop The Broadmoor's South building, offers European cuisine amid spectacular views of Colorado Springs and Cheyenne Mountain. It's a superior dining experience, one that perennially receives a five-diamond rating from AAA and a five-star one from Forbes. The menu offers prix fixe meals of three, four and seven courses. To add to the refined, magical experience, diners can dance in between servings to the soothing sounds of a stellar jazz ensemble. broadmoor.com
---
 1111 14th Street
fourseasons.com/denver; 303-389-3343
Contributor Gary James writes Colorado AvidGolfer's Fareways column. Read more of
his work at coloradoavidgolfer.com.
---
This article appears in the August/September 2017 issue of Colorado AvidGolfer— the state's leading resource for golf and the lifestyle that surrounds it, publishing eight issues annually and proudly delivering daily content via coloradoavidgolfer.com.