TaylorMade is seeking to rebound from a mediocre year that saw its biggest rival prosper.
By Tony Dear
---
The response needed to be extraordinary, weighty, momentous. It had to be truly remarkable. A few more yards gained from somehow lowering the CG (again!) – a millimeter or two further down, or a thinner face (again!) – .1 or .2 of a millimeter less than on previous clubs, just wasn't going to cut it. Lower CGs and thinner faces are great, and the science worthy, if they really do give us a little extra yardage. But it's all too familiar an exhortation now, and for many it's wearing a little thin.
TaylorMade still claims the number one spot in the driver category based on the number of players using their M1 and M2 drivers on the pro tours in 2017, and the number of PGA Tour wins (17).
But anyone with even the slightest interest in golf and golf equipment knows that last year belonged to Callaway, Jailbreak Technology, and the incredibly successful Epic and Epic Sub-Zero drivers.
So in order to answer Epic's colossal statement, TaylorMade had to introduce some show-stopping innovation – technology that gets golfers really excited.
While Epic focused largely on creating greater ball speed and overall distance, TaylorMade's primary concern with its new M3 and M4 drivers is superior forgiveness achieved by the new Twist Face. Brian Bazzel, Vice President of Product Creation at TaylorMade, introduced the new face to five of the company's top players (Dustin Johnson, Justin Rose, Jason Day, Rory McIlroy, and Jon Rahm) last September, and they were all suitably shocked by its non-conventional shape, and noticeably intrigued by how its curvature would help their low-heel and high-toe mishits find the fairway. (I don't doubt the authenticity of the video because it's doubtful Johnson et al have the acting skills to feign genuine surprise).
TaylorMade certainly isn't the first manufacturer to address a driver's gear effect capabilities, but whereas other manufacturers (Cobra and Adams specifically) changed the axis of the bulge and roll, the Twist Face has a totally unconventional shape – imagine someone holding a flat piece of metal with their fingers in the top left and bottom right corners, and giving it a little twist (like when you close up a car windshield/photography reflector).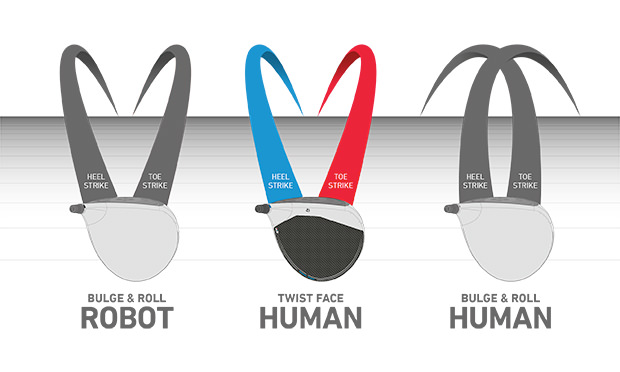 TaylorMade says that to counteract the high-toe miss, which usually results in a hook, the driver face has been 'twisted' open (loft increased & face opened) to help straighten the shot. Similarly, to lessen the impact of a low-heel miss (slice) the face has been twisted closed to de-loft and close the face in the low heel area.
Of course, the M3's features don't end with Twist Face. There's plenty more going on.
Hammerhead Slot
Positioned in the sole toward the face, the Hammerhead Slot (don't confuse the Hammerhead Slot with Jack Hamm's infamous Hammer X driver) is designed to deliver maximum ballspeed across a larger area of the face, creating a larger sweet spot. A next-generation design of the company's Speed Pocket, the Hammerhead slot allowed engineers to decrease the thickness and weight of the face making it more flexible and thus generating greater ball speeds.
Carbon Crown
The thin, light, strong five-layer composite crown is both aerodynamic and lowers the club's center of gravity.
Y-Track
Unlike the 2016 and 2017 M1 T-Track, the heel-toe track and front-back tracks are connected in the M3 allowing all 22 grams (two 11g weights) of moveable mass to be utilized for both the benefit of heel to toe control as well as front to back CG adjustment. The Y-track gives you more than 1,000 unique CG configurations — more than double than what the 2017 M1 offered. With the 12-position, four-degree aluminum Loft Sleeve (back sleeve compatible), you now have one really customizable club.
The 440cc version of the M3 has a slightly deeper face, but the same technologies, as the 460cc model.
Our favorite piece of equipment in 2017 appeared in the third week of January. Could it be that 2018's most prized possession comes even earlier in the year?
---
M3 Driver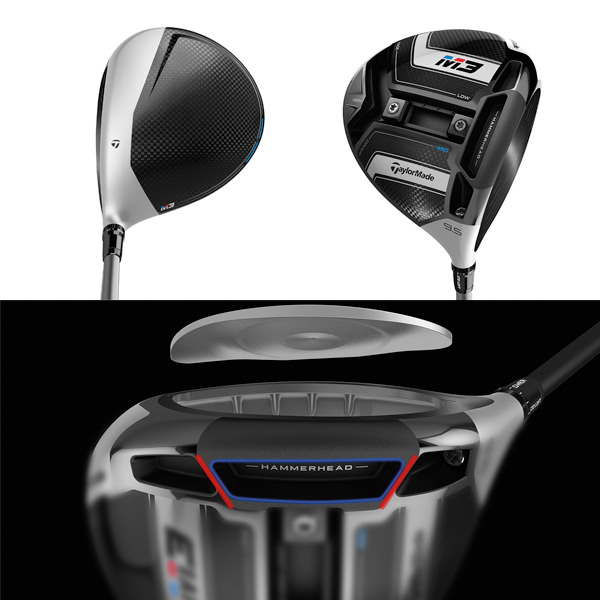 $500
Available: 460cc – 8.5°, 9.5°, 10.5° & 12° (right); 9.5°, 10.5° (left). 440cc – 9°, 10° (right only)
Pre-order February 1st, in stores February 16th
Shafts – Both models come with MCA's Tensei CK Red (high launch), Blue (mid launch) or White (low launch) in R, S & X flexes along with a Lamkin UTx cord grip. More than two dozen other premium shafts available at no extra charge.
taylormadegolf.com
---
M4 Driver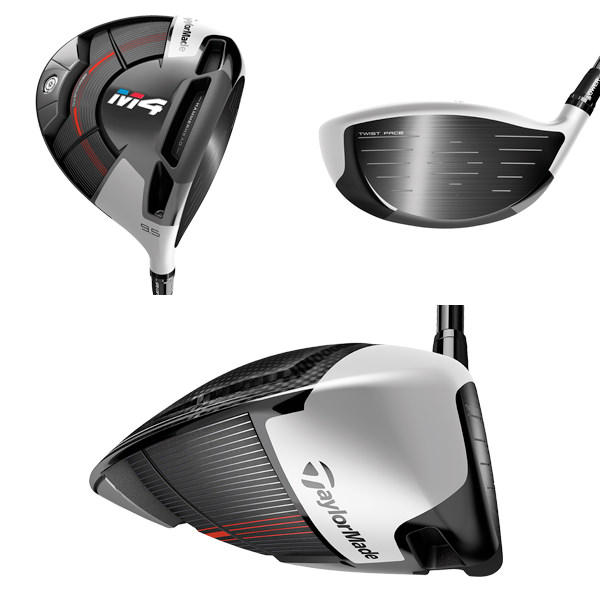 The M4 features not only Twist Face and Hammerhead, it also incorporates what TaylorMade calls Geocoustic engineering which combines a large head and a low CG with a more curved sole which has a higher frequency and thus, says TaylorMade, better feel and sound. The M4 also has an extremely thin face – 3.6mm, and the heel/toe perimeter thickness has been reduced to 1.92mm. The face's mass had been lowered from 45.5g in the 2017 M2 to just 37.6g.
$430
Available: 8.5°, 9.5°, 10.5° & 12° (right); 9.5°, 10.5° (left)
In stores February 16th
Shafts – Fujikura Atmos Red shaft in 6X, 5S, 5R, 5A along with a TM/Lamkin Dual Feel grip.
Women's – 10.5° and 12° lofts (right) with a TM-Tuned 45 (L) shaft.
---
M4 D-Type Driver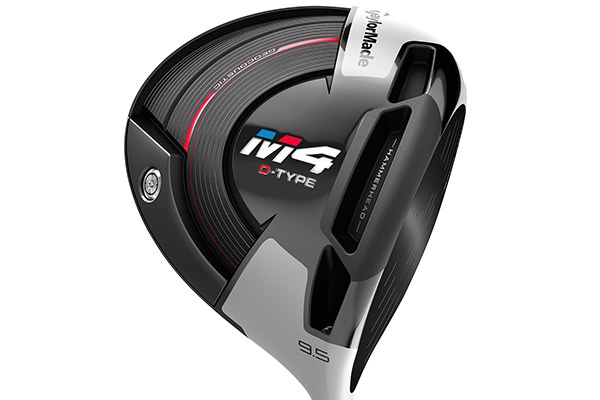 The M4 also comes in a higher-launching, 460cc version called the M4 D-Type with 41g of weight in the heel and a slight offset to promote a draw.
$430
Available: 9.5°, 10.5° & 12° (right); 9.5°, 10.5° (left)
In stores February 16th
Shafts – Matrix Platinum White Tie shaft 55 S, R and 45 A, L.
Women's – 10.5° and 12° (right) with a Matrix White Tie MSF5 45 g (L) shaft.
---
Colorado AvidGolfer Magazine is the state's leading resource for golf and the lifestyle that surrounds it, publishing eight issues annually and proudly delivering daily content via coloradoavidgolfer.com.