While many new products make some spurious claim about revolutionizing the game, very few actually have actually done so. That isn't the case with Sun Mountain.
While not quite in the same category as the Ping Anser, Callaway Big Bertha, or Titleist Pro-V1, the Sun Mountain Eclipse, launched in 1986 and the game's first genuine carry/stand bag, had a profound effect on the typical golfer's typical round, saving his back and legs from lowering the bag on to the ground and picking it up again.
The Eclipse rightly established the small, independent Montana-based company as a major player in the golf-bag market.
Three decades later, the innovations just keep on coming, with Sun Mountain's bags getting ever lighter and becoming increasingly easy to carry. The company's latest offering is the Lightweight Series, or LS—four models ranging in weight from an incredible 2.5 lbs. to 5.5 lbs.
Known as the 2five, the 2.5-pounder is the "lightest, full-featured bag on the market," according to the manufacturer, which reduced the bag's weight by using carbon-fiber legs, high strength-to-weight plastics (polypropylene) and the kinds of ultra-lightweight and durable fabrics—such as 70 Dernier nylon—used in mountaineering tents.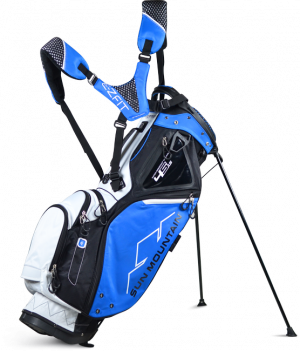 The 3.5-lb. model's extra pound comes from a thicker shoulder strap, a more-cushioned hip pad and three more pockets.
Next up, the 4.5-lb. bag incorporates the E-Z Fit Dual Strap System for carrying, though it does possess a number of cart-friendly features—a cart strap pass-through that runs behind the clothing pocket so the bag can be secured without blocking pocket access, a leg-lock system to keep the legs firmly in place while the bag is carted and a cart-friendly bottom.
There are two other 4.5-lb. models: the LS 14-Way, with a 14-way club divider, and the Zero G, with a hip belt to take weight off the shoulders.
The largest model, the 5.5lb bag, features an 11-inch diameter top with four, full-length club dividers and nine pockets including: three water-resistant valuables pockets, a clear-view phone pocket, and a velour-lined GPS pocket with a protective, thermo-formed front panel.
AVAILABILITY AND RETAIL PRICING:
• 2five available in ten different colors, $220.
• 3.5lb. is available in seven colors, $230.
• 4.5lb. is available in ten colors, $210
• 4.5lb. 14-WAY is available in five colors, $220
• 4.5lb. Zero-G is available in three colors, $230.
• 5.5lb. is available in eight colors, $240.