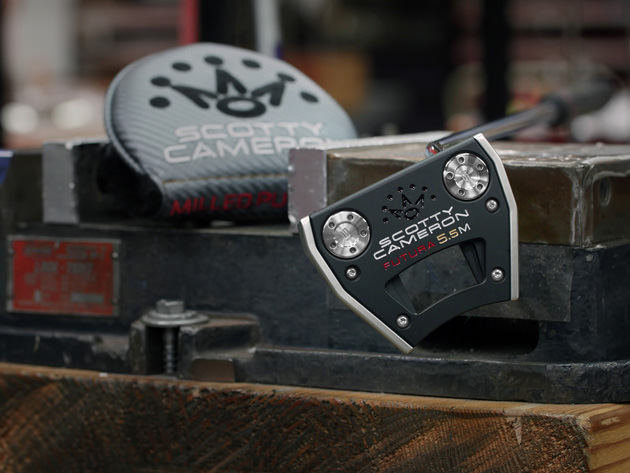 Originally made for Justin Thomas, Cameron designed the mallet putter to work with an arced stroke.
By Tony Dear
In July 2016, while working on a GoPro promotion, Justin Thomas visited the Scotty Cameron studio in San Marcos, Calif. He talked about his putting with Cameron.
A blade guy all his life, the one-time PGA Tour winner (2015 CIMB Classic) was having a poor season on the greens. Dozens of his fellow PGA Tour players were using high MoI, face-balanced (face points to the sky when balanced on a finger) mallets, but the straight back-and-through stroke these clubs promoted didn't suit Thomas's arced motion.
So he asked Cameron if he could build a mallet with more toe hang than was usual—a mallet that would accommodate the in-to-square-to-in movement of his putting stroke. Cameron fitted a Futura X5 with a flared neck for Thomas who toyed with it for a couple of months before finally putting it in his bag at the Barclays.
Thomas would tie for 10th in that event, and although he would finish the 2016 season 131st in Strokes Gained Putting, he defended his CIMB title in November, and then won twice in January (SBS Tournament of Champions, and Sony Open), averaging 65.38 for the eight rounds and shooting 49-under-par. In June, he shot 63 in the third round of the US Open and finished in a tie for ninth.
There is no quantitative measurement for the amount of toe hang as such, but you can of course compare toe hang between putters. The easiest way to do it, says Titleist and Acushnet Golf's Manager of Communications Eric Soderstrom, is simply to rest each putter on its shaft on a table and observe the degree to which it is face up or more toe down.
"More toe down means there will be more toe flow and it is less face-balanced," he says.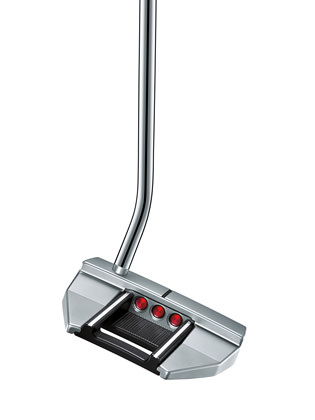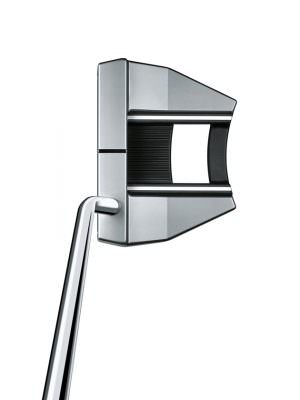 Other Tour players, seeing how well Thomas was putting, began asking Cameron if he'd build the putter for them. It became so popular Cameron began thinking about bringing it to retail. To do so, he really needed to get inventive. "I added a leaned over, stainless steel half-neck spud that came off the topline and accepted a single bend shaft," he says.
It's not important what that putter mumbo jumbo means exactly. What is important is that the retail version of the Futura 5.5M matches up closely with Thomas's putter, and is really the first mallet that works well with an arced putting stroke.
The head, whose body is made with 303 Stainless Steel and whose face is constructed from 6061 aircraft-grade aluminum, is 10% smaller than that of other Futura heads. The face wraps around the sole to increase stability and forgiveness.
The Futura 5.5M ('5' is the size, .5 refers to the shorter shaft bend, and the "M" stands for MOI) has 3.5 degrees of loft, has a non-glare Silver Mist finish, two removable Stainless Steel sole weights, a stepless steel shaft, and black Matador mid-size grip.
$380
Available August 25th
scottycameron.com
RELATED LINKS
A Top-of-the-Line Putter Alignment Tool
Could Argolf Putters be the Finest in the Land?
PXG Bat Attack Putter