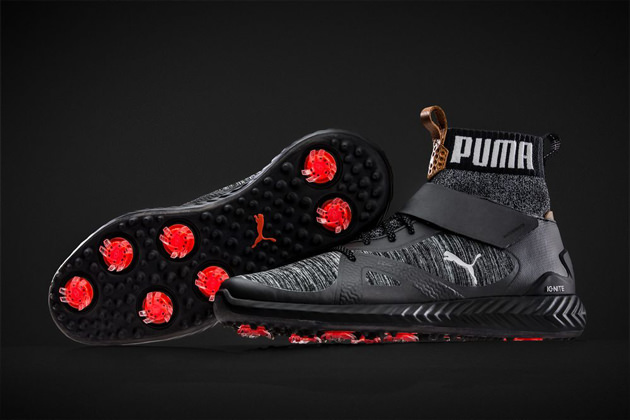 Golfers of a certain vintage—let's say anyone born before 1985 —should bypass the first couple paragraphs of this week's Gear story, as it describes an item of footwear that might not be age-appropriate.
There may be a handful of readers older than 33 who retain the youthful swagger needed to pull off wearing Puma's PWRADAPT Hi-Tops, but more than likely your girth, hairline, job, wardrobe, outdated music tastes, waning athleticism, and status as a parent suggest you should probably leave well enough alone.
These shoes, featuring a leather tab on the heel stamped with Puma's ZIP code and a topographic map of their Carlsbad headquarters on the inside sock, plus a cat skull with cross clubs on the interior of the strap, are unmistakably for cool, confident, young golfers like Puma's most recognizable brand ambassador, Rickie Fowler, who has been wearing hi-tops since 2016.
It's possible Fowler will remain hip enough to continue his hi-top lifestyle for decades, but at 29, and after almost ten years as a professional, perhaps even he should be beginning to consider other options.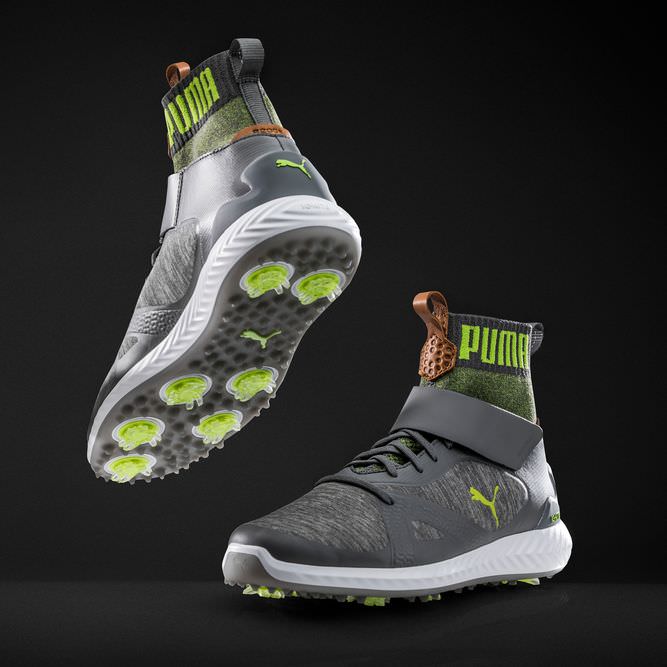 Of course, he could just slip right into Puma's original PWRADAPT line, launched in January with three models that are suitable for all ages and feature the company's new sole technology, and IGNITE foam.
PWRADAPT sole technology consists of what the company calls "3-Dimensional Traction pods, along with responsive cushioning for ultimate performance and comfort." IGNITE foam is a proprietary midsole foam designed to provide energy return, responsive comfort, and stable cushioning and comfort. The Epic Tour Last provides more volume and less toe-spring for a fit and feel "meant for cleated performance."
Like models in the original line, the Hi-Top version comes with a two-year waterproof guarantee—confirming it really is a serious golf shoe, and an EVOKNIT knitted collar which replaces the tongue and, according to Puma, improves the fit and breathability.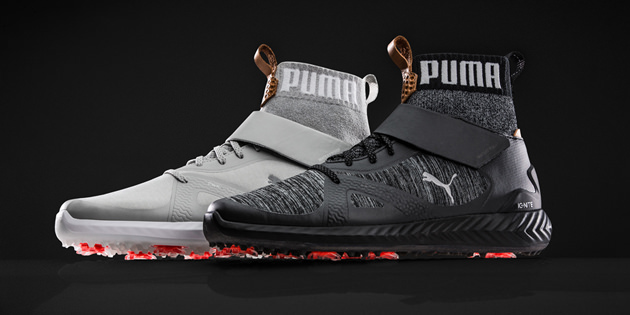 Grant Knudson, Global Head of Footwear & Accessories for PUMA Golf, says the PWRADAPT Hi-Top is the company's way of integrating the latest in fashion elements with cutting-edge golf footwear.
"Our goal each season is to push the game forward with products that challenge the status quo while respecting the traditions of golf," he adds. "The IGNITE PWRADAPT Hi-Tops represent this continued drive for style innovation and the evolution of a silhouette that's become synonymous with PUMA Golf and Rickie Fowler. The proven PWRADAPT platform and hi-top knitted upper together make the perfect blend of style and performance suited for a wide variety of conditions golfers can encounter on course."
Just so long as those golfers are 33 or under, right?
Hi-Tops:
$220; available in Grey/Violet, and Black.
PWRADAPT, PWRADAPT Disc, PWRADAPT Leather:
Originally $170, now $150. PWRADAPT and PWRADAPT Disc available in Quiet Shade/Quite Shade, Black/White and Peacoat/White. Leather available in White/White, and Black/Black.
cobrapumagolf.com