Pleasure Machines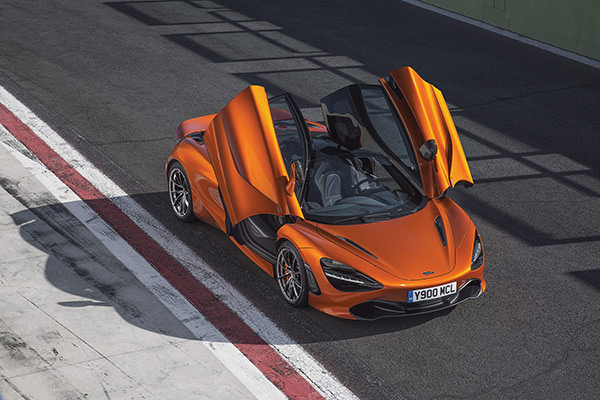 As automobiles automate, these high-end vehicles hold sacred the time-honored joy of driving.
By Isaac Bouchard
---
YEARS AFTER THE ROBOTS take over, car enthusiasts will sit around, lamenting the last, glorious days of the human- piloted automobile. Amongst the ones they'll fondly recollect are these, ranging far in mission yet united by the level of passion and excellence they display in their design and execution.
---
2017 McLaren 720S
2017 MCLAREN 720S In less than a decade the fabled racecar builder—second only to Ferrari in F1 wins—has established itself as a credible maker of road-biased supercars as well. While still perhaps a bit less emotional than its mid-engine rivals from Maranello, the incredible pace of development McLaren maintains ensures that the new 720S combines almost all the track capability of the earlier 675LT and even the seven-figure P1 hypercar with the civility of the 570GT and 650S models. First up in McLaren's second generation of the "Super Series," it employs a fully active suspension to combine a compliant ride with epic road holding. The 720S also introduces a revised carbon passenger cell, which has bigger door apertures to aid entry and exit and thinner pillars to increase visibility. A revised, 4-liter version of the company flat plane-crankshaft V8 generates the power of 710 horses, propelling the newest Macca to sub-3-second 0-60mph acceleration. From $285,800.
---
2017 Mercedes AMT GT R
AMG, the onetime race shop for Mercedes, has been brought totally in-house. Far from watering down this madhouse's offerings, the new patronage has helped unleash perhaps the finest driving Benz sports car ever, the GT R. Its 577hp, twin turbocharged "hot vee" eight is still hand assembled, and allows this outré coupe to out-gun—and even outrun—Porsche's epic GT3 machines. The GT R's visage pays homage to the legendary gullwing 300SLs of a century past, and while it is laden with tech—adjustable front aero, four-wheel steering, configurable damping and exhaust, and a dizzying array of combinations of stability and traction control interven-tion—the driver remains the focus. Top guns can left-foot brake to balance the car in corners—something many modern machines forbid—and even adjust ride height of the coilover suspension for track usage. One of the most visceral cars on the market, the AMG exists to allow drivers to perform at their best. From $157,000.
---
2018 Range Rover Velar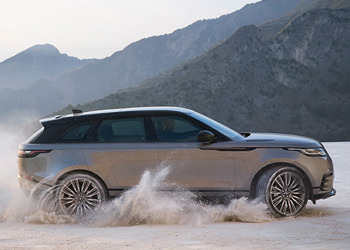 Leveraging sister company Jaguar's F-Pace platform, Range Rover comes out with perhaps the most gorgeous SUV ever. All sweeping expanses of teardrop aluminum and glass, stretched over show car-sized footwear, it is simply stunning—inside and out—with a level of uncluttered luxury that in some ways eclipses the Sport model, which sits above it in the Range Rover hierarchy. The latest version of the firm's cloud computing-based infotainment interfaces, dubbed Touch Pro Duo, looks promising in its clean presentation and enhances the cockpit's sense of occasion. Power is supplied exclusively by supercharged V6 engines and while the Velar can still venture off road, its natural habitat looks to be chic urban areas, where its signature aesthetic will make most all other crossovers look passé overnight. From $50,000.
---
2017 Aston Martin DB11
The DB11 represents the first of a series of new machines from the venerable British firm. Built from a thoroughly updated version of the Aston's bonded aluminum component set, its electronic architecture comes from new minority owner Mercedes and helps insure the long-term viability of the company. Its lines mix classical and modernism in a complex sonnet of aerodynamic management, such as the AeroBlade "virtual" rear spoiler, and its sumptuously intimate cockpit is Aston's best effort to date. The DB is powered by a new, big-hearted 5.2-liter V12. Its 600hp is plumped up by turbocharged boost, meaning gobs of low-end torque to go with the sonorous soundtrack. An unapologetic Grand Touring machine (more singularly focused cars will follow) it hearkens back to an era of epic road trips across vast open spaces yet it feels completely at home in our modern age. From $214,820.
---
2019 Lucid Air
Tesla showed people would pay six figures for a sexy and fast electric vehicle. In fact, the Model S is the top selling high-end sedan in the US. Lucid—staffed by many of Tesla's top talent—takes the EV to the next level with the Air, whose captivatingly simple yet bold exterior design makes most current vehicles look cluttered and heavy-handed. Its interior is a work of genius, leveraging the packaging efficiencies of its drive system and thin-screen interfaces to free up copious amounts of space for humans to luxuriate in. The technology onboard is sensational, from the F1-derived airflow patterns woven into its aluminum unibody, to in-house, power-dense electric motors and next-gen batteries that can unleash more than 1,000 horsepower for hypercar-rivaling AWD acceleration—an insane 0-60 mph in 2.5 seconds—yet can provide up to 400 miles of range. Stellar handling and luxurious ride quality result from the Air's ultra-low center of gravity, regenerative-valve air springs and computer-controlled torque vectoring. The latest autonomous sensors and updateable, connected onboard systems mean the Lucid stands a good chance to be as future-proof as any means of transport in our hyperdrive age can be. From $52,500 (subtracting federal tax credit available to buyers of battery electric vehicles).
---
2018 BMW Concept 8 Series
A harbinger of an all-new BMW flagship that will arrive next year, the Concept 8 yanks BMW out of the staid styling language that often mires the current lineup. A few simple lines and voluminous forms define the gorgeous bodywork, and the company promises the production machine will hew closely to this prequel. The Concept 8 strikes a pleasing balance, being more dramatic than the Mercedes S-class coupe yet more elegant than the new Lexus LC models. The BMW's interior is also a refreshing return to form, with an obviously driver-focused set of enveloping forms and cleanly presented tech. Power is likely to come from one of the twin turbo V8s in the Bavarian's stable, with a probable 600-plus horsepower in top versions. Pricing not yet available.
---
2017 Ford GT
A half-century after beating Ferrari at its own game—24 punishing hours of endurance racing at LeMans—the Americans returned to France with a skunkworks-developed, carbon fiber-chassised racer and won again. The resulting road car is equally focused, with everything honed to a razor-edged fe-rocity that makes the GT one of the great performance cars of our time. While noise reverberates through the lightweight carbon fiber body and Spartan passenger cell, this Ford will certainly share garage space with more cosseting machinery that's better suited to daily usage. The GT exists as a passion project and technological showcase, from its 647hp version of the Ecoboost V6 and twin-clutch seven-speed race 'box through to its active aerodynamics and an electronically controlled suspension that lowers the car two inches at the flick of a switch, thereby increasing spring rate. All this and an ultra-sophisticated traction management enable it to lap with the fastest cars in the world. While the price may seem exorbitant for something wearing the Blue Oval, only 1,000 will be built over the next four years, meaning it will almost certainly appreciate in value. From $450,000.
---
More Than a Golf Car – Club Car Onward
Zip around the course and your neighborhood in Club Car's new plush, street-legal Onward. Designed for master-planned communities, it reaches speeds of 20mph and comes in two- and four-seat versions powered either by gas or electricity. A four-seater with "lifted" suspension (above) provides extra comfort and clearance. Safety features include 360° wraparound bumpers, LED headlights, brake lights, rearview mirrors, turn signals, side reflectors and a horn. This infitintely customizable vehicle's options include a trailer hitch, sound system, canopy top, underseat storage, built-in cooler, fold-down seats, wide-tread tires, locking trunk and more. Among the metallic finishes are sapphire, mocha, platinum, cashmere and candy apple. From $7,200. clubcar.com; cologolfandturf.net
---
Isaac Bouchard is Colorado AvidGolfer's Automotive Editor and the owner of Bespoke Autos in Englewood, Colorado.
This article appears in the August/September 2017 issue of Colorado AvidGolfer— the state's leading resource for golf and the lifestyle that surrounds it, publishing eight issues annually and proudly delivering daily content via coloradoavidgolfer.com.