Will the Mizuno JPX 919 be as successful as the company's recent models?
By Tony Dear
---
Didn't Mizuno's JPX900 Hot Metal become the Japanese clubmaker's best-selling game-improvement iron ever (okay, this was never Mizuno's main focus so the Hot Metal didn't have a lot of competition)? Hasn't the JPX900 Forged been validated by a wide range of handicaps? Didn't Brooks Koepka just win three majors with the JPX900 Tour?
When the first JPX series irons appeared in 2009, Mizuno loyalists were struck dumb. The graceful shapes and sweet shot-making feel of the legendry MP series were being joined by a brash line of unseemly cavity-backs with colored insert badges that seemed entirely contradictory to everything Mizuno stood for. They weren't part of cheap and nasty department store boxed sets certainly, but they clearly lacked the sophistication and elegance we had come to expect from a manufacturer with Mizuno's reputation.
Fast forward nine years and those upstart cavity-backs have evolved into highly-regarded, not to say extremely successful, irons that now seem as much a part of the Mizuno stable as their revered elders.
The last version, the aforementioned JPX900 Tour, Forged and Hot Metal, found devotees among high-handicappers, intermediates, and elite golfers and could potentially have remained on the Mizuno playlist for a while longer yet.
Golfers are a demanding sort these days, however, and require their favorite brands to regularly update inventory. The JPX900 line was launched in August 2016 which means its time is up. It is now headed for ebay where it will be offered at attractive prices and get snapped up by lucky golfers who hopefully appreciate what they have.
The replacement is the JPX919 which, like its predecessor, comes in three varieties – Tour, Forged, and Hot Metal. The Tour, the flagship model, would have ended the days of the JPX being regarded as a good option for mid-high handicappers if the JPX900 hadn't got there already. Forged from 1025E Carbon Steel, the Tour has the shape and feel better players love, but Mizuno says it is plenty forgiving too thanks to the cavity being stretched closer to the hosel allowing engineers to replace the weight elsewhere in the club to improve its performance, especially on off-center hits. This extended cavity forms the basis of what Mizuno calls the 'Stability Frame'. The extra weight was positioned low and toward the toe of the club shifting the sweetspot to the true center of the clubface and ensuring a little higher launch with less spin than what many of its competitors generate.
The new Pearl Brush finish is brighter than the JPX900's satin, but still non-glare. And it's more durable.
And yes, Koepka apparently loves it.
The Forged, ideally-shaped to appeal to a wide variety of golfers, is constructed from 1025E Carbon Steel and Mizuno's 1025 Boron which is 30% stronger than the carbon steel. That, combined with a 52mm micro-slot that's hidden in the sole, enables Mizuno to increase the face's Coefficient of Restitution (COR), making the face hotter, faster, and actually more forgiving than that of the JPX900 Forged. Built using the same Grain Flow Forged HD method as the Tour, the grains of metal in the Forged are more densely packed below the club's Center of Gravity facilitating a strong launch.
As with the Tour, lofts on the Forged are actually 1° weaker than on the corresponding JPX900 iron.
The Hot Metal, rather than a 1025E Carbon Steel construction, is actually cast from Chromoly 4140M which is stronger than Carbon Steel and yet very responsive. A multi-thickness face increases the club's COR compared with the JPX900 Hot Metal.
Distance was certainly a major objective with this iron, but not at the expense of feel or forgiveness. Chromoly has surprisingly good feel and five sound ribs were added to create consistent feedback and improve the sound of impact – a hugely important factor when assessing a club's feel.
The Hot Metal is larger than its siblings certainly, but it is more compact than many of its game-improvement competitors. It is, in short, just the sort of game-improvement iron you'd expect Mizuno to make.
In June, Chris Voshall, Mizuno's Brand Manager, admitted on GolfTec's Youtube channel that JPX was a younger person's brand. "It's more futuristic, aggressive, and modern," he said. "That's why we pursued Brooks Koepka. He's the prototypical JPX player."
If you appreciate futuristic, aggressive, and modern, the JPX919 is most certainly worth a look.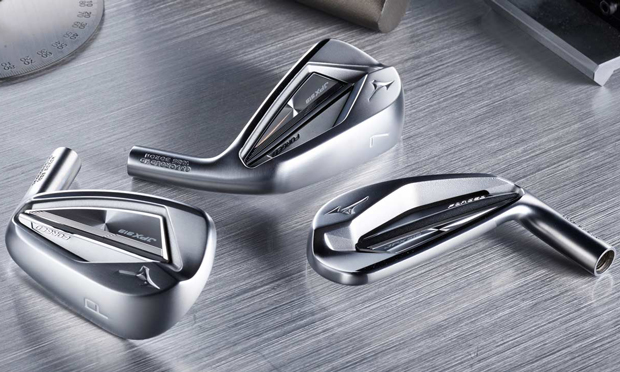 Tour:
$1,200 / 8 clubs

Stock shaft – True Temper Dynamic Gold 120 (no upcharge for any shaft in Mizuno catalogue)

Right-hand only
Forged:
$1,300 / 8 clubs

Stock shaft is True Temper Dynamic Gold 105 (no upcharge for any shaft in Mizuno catalog)

Right and left hand
Hot Metal:
$1,000

Stock shaft Nippon N.S. Pro Modus3 105 (steel) and Project X LZ (graphite)

Right and left hand
---
Colorado AvidGolfer is the state's leading resource for golf and the lifestyle that surrounds it. It publishes eight issues annually and proudly delivers daily content via www.coloradoavidgolfer.com. Follow us on Twitter, Facebook and Instagram.