Mourning Has Broken
Support from some empathetic golf partners has helped Brian Griese turn the childhood loss of his mother into a haven of hope for thousands of bereaved kids.

By Jon Rizzi
Photography by EJ Carr
---
As the former president of the Denver Partnership and current senior managing director of development and investment for the Trammell Crow Co., Bill Mosher has sat at the table with the state's most influential people. But the man whose fingerprints are all over Union Station, Coors Field, History Colorado and dozens of other transformational Denver projects is reluctant to drop the name of the person who made one of the lasting impressions on him.
"He was a nine-year-old Hispanic boy," Mosher remembers. "I knew he'd lost his father and I could not get him to talk to me."
Their encounter took place at Judi's House, the homey residence at 1741 Gaylord Street where grieving children and families receive counseling and support. The boy was already three weeks into the program's 10-week Pathfinder program in which Mosher had become a trained volunteer. In the fourth session, the pair shared a table with a small tray-like box used for "sand play," a therapy in which individuals can safely express their inner emotions with sand, water and miniature objects.
"With his finger, he drew a house and then a person inside it," Mosher says. "He looked at it a long time and took a toy car and placed it on top of the person. Then he put a shoe next to the car and started crying."
Mosher soon learned the boy's father had been working on a car in their garage when the jack collapsed. The car crushed the man. "The boy saw it happen and tried to free his father," Mosher recalls. "He couldn't lift the car, so he grabbed his father by the feet and pulled off his shoe trying to save him."
From that point on, the two connected. Mosher, who at age 12 lost his own father in a car accident, shared with the boy his isolation at the time. The grieving child knew he was not alone and the healing could begin.
Mosher shares this story while sitting at a different table—a wrought-iron patio-style four-top on the lanai at Cherry Hills Country Club. Joining him are Judi's House board member and commercial realtor John Wickliff and the co-founder and chairman of the charity, the former Broncos quarterback Brian Griese.
The three look like any other group of golfers who have just finished 18 holes at the august club. Griese, a 2-handicap who just carded a smooth 75, ribs Mosher for joining our group on the 15th hole and Wickliff for a driver that didn't show up until the 18th, when the 7-handicap piped one about 320 yards. The two give it back to him, asking when Griese, who announces college football on ESPN, can possibly find time for golf with so many games to call in June.
More poignantly, the three share a bond. They're all successful men who lost a parent. In 1996, when John Wickliff was 23, his father, Steven, was murdered in a case that remains unsolved to this day. Judi Griese succumbed to cancer when Brian was 12—the same age as Bill Mosher at the time of his father Henry's fatal accident.
That last coincidence proved providential. In 2001, during Griese's fourth season with the Broncos, the team's community relations director Cindy Galloway told her mother, marketing and communications maestro Jean Galloway, about Griese's desire to create a place that provided grief support to children who had lost a parent. Jean passed that information to Mosher's wife, the fashion retailer Molly Broeren, knowing Griese's idea would resonate with her husband. The quarterback and the power broker met and immediately formed a connection based on their shared experience—and the fact that no organization specifically focused on this extremely vulnerable group.
Mosher became a founding board member. "We serve a very underserved community," he says. "When you talk about a grieving child, you're talking about a person who's angry, confused, sad, alone. They feel nobody understands them. Those kids grow up faster than they need to."
"For years, I was looking for some way to make sense of it," Wickliff says of his father's death. "Then I heard about Judi's House and got involved."
Within a year, Judi's House was providing its first grief support groups to children and caregivers in a house at 1600 St. Paul Street. Word spread. By 2005, in response to overwhelming growth and demand for its services, Judi's House needed more room.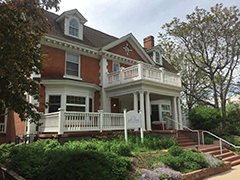 They found it in a house in the City Park West neighborhood at 1741 Gaylord Street. Before buying it they invited 50 people to a fundraiser. Griese spoke, and then, for the first time in his life, Mosher publicly related the impact losing his father had on him. "It was very cathartic," he says. "I give Brian a lot of credit for helping me. We've all supported each other. We were able to talk about it."
"We raised $585,000 from 50 people," Wickliff says. "It was absolutely mindboggling."
"We have very generous, perpetual supporters," Griese says. And they have the right connections. For example, when the house needed construction done to bring up to code, Mosher got the Hensel Phelps contracting firm to donate its services.
"Anytime someone gets involved, they stay involved," Griese says. "John is way involved. He's a superhero. What's unique about him and Bill is that they roll up their sleeves. They both have loss. It's a completely different level of commitment, emotion and time because they've lived it."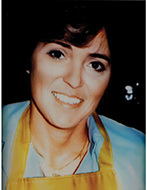 Griese lived it too. Still does. "My son is eight, a year older than I was when my mother was diagnosed," he says as we walk the 13th fairway at Cherry Hills. "I think about that. And my daughter turns 12 next year—my age when my mother died. She was 44. I'm 42. Things can change in an instant. It's why what we do is so important to us."
In addition to being the mother of those children, Brian's wife, Dr. Brook Griese, serves as the executive director of Judi's House. A clinical psychologist specializing in childhood trauma and loss, she has become as much the driving force of the organization as her husband has. "Brook is the first call people make when a family with children has a death," Brian says. "We're on the map in such a big way."
Funded solely by donors, to date Judi's House has served more than 8,500 children and caregivers/family members. It has hosted national symposiums on children's grief support, partnered with the University of Colorado on large-scale research initiatives, established school-based grief counseling groups at more than 80 Denver-area schools and partnered with the Boys and Girls Clubs of Metro Denver to provide grief education and onsite counseling groups. Excluding volunteers, more than 30 people—including clinicians, counselors and administrators—work for Judi's House.
"But there's only so much a brick-and-mortar facility can do," Brian says. "There are 30,000 people in the Denver area alone who need our help."
To expand the ways in which they can meet the need, the Grieses established the JAG (Judith Ann Griese) Institute to increase research, training and technology initiatives aimed at creating a Comprehensive Grief Care Network in the Denver area and beyond. "We have PhDs on staff and unique, evidence-based knowledge to share with clinicians," Brian says. "We can train them how to specialize in bereavement and connect with kids at schools."
By laying technology on top of that, Brian says, the possibilities are infinite. "We train the trainers and develop a virtual workforce that can tap into our knowledge base at anytime. We become both a critical health service and a critical health resource."
Whether they're in Denver or Denmark, Griese doesn't want any kid to suffer the way he did after Judi died, which is how he keeps her spirit alive.
Playing golf is another. He didn't learn the game from his father, NFL Hall of Fame quarterback Bob Griese, but from his mother. An excellent tennis player and

golfer, Judi Griese taught all the Griese men—her husband and sons Scott, Jeff and Brian—how to play the game. As the youngest, Brian vividly recalls living in Coral Gables, Florida, right by the Riviera Country Club, where Judi would take him out with one club—a 7-iron—and teach him to hit all the shots with it.
She taught him well. He lettered in golf in high school, and for six years, Judi's House hosted the Players Cup Weekend golf fundraiser at The Broadmoor. "It was successful, but it was a lot of work," Brian says, "and I wanted our staff to commit its time to helping the kids and families, not to putting on a golf tournament." He talked to his board and went to the people who'd played in the tournament. "I asked them if they'd contribute the same amount to Judi's House if there wasn't golf tournament." The answer was a resounding yes.
Judi's House still gains from golf, however. This month, for the fifth consecutive year, all proceeds from the Moody Insurance Agency 10th Annual Charity Golf Tournament will benefit Judi's House. The tournament takes place July 19 at Hiwan Golf Club in Evergreen.
The last three years have also seen Griese bring his football background to bear with Brian's Quarterback Club fundraising dinners and the inspiring Speakers Series Luncheons. The former have featured, among others, John Elway, Chris Harris Jr. and Demaryius Thomas; the latter, Archie Manning and Bob Griese, Tony Dungy and Bob Costas. On October 10, bestselling author Mitch Albom (Tuesdays with Morrie, The Five People You Meet in Heaven) will headline the "Strength in the Face of Adversity" Luncheon at the Hyatt Regency Denver at the Colorado Convention Center. Griese, Mosher and Wickliff will most certainly attend. Meanwhile, over beers at Cherry Hills, the three friends initially bound by grief are talking about how Judi's House has helped them—and helped them help so many others—move on with their lives. Without taking another sip, their half-empty pint glasses suddenly look half-full.
---
This article appears in the July 2017 issue of Colorado AvidGolfer Magazine.
Jon Rizzi is Colorado AvidGolfer's editor.
For more information on Judi's House or to play in the July 19 Tournament at Hiwan, visit judishouse.org.
---
Colorado AvidGolfer is the state's leading resource for golf and the lifestyle that surrounds it, publishing eight issues annually and proudly delivering daily content via coloradoavidgolfer.com. Follow us on Twitter, Facebook and Instagram.