Welcome to "Getting Home," a new column featuring residences and communities that reflect life along the fairways. From a one-bedroom condo overlooking Heather Ridge that recently sold in the low $100s to the stunning residences of Castle Pines Village or Cherry Hills Country Club that reflect price points in the $3 million range, numerous select homes become available on an ongoing basis. 
Getting Home is brought to you by Martin Yeager, Owner of R/E Studio Works, a company specializing in balancing the intangible character and lifestyle of homes to create a stronger, more aligned impression with you, the buyer. Every issue of Colorado AvidGolfer will feature a real estate community in Colorado—spanning the Front Range to Grand County, from Cherry Creek to Columbine Valley— supplemented with individual listings every other week here on ColoradoAvidGolfer.com. Martin and the Colorado AvidGolfer team will bring you the best homes in the state to get you settled into the lifestyle you've always wanted, all while placing you next to the best golf experiences in Colorado. 
---
Glory Behind the Gates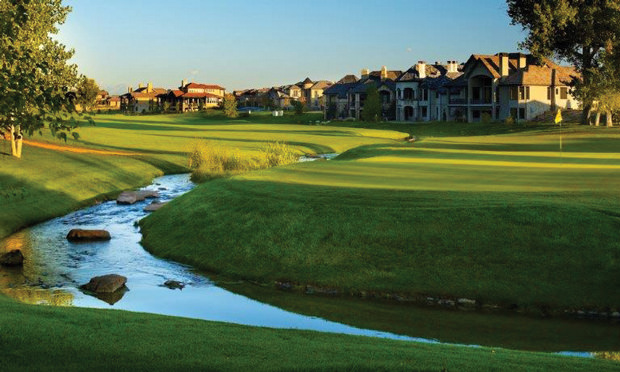 Stunning architecture, exceptional golf and resort-like amenities enrich the private communities of Cherry Creek Country Club and The Club at Ravenna.
---
This, we highlight not one, but two of the metro area's most impressive gated golf communities. Cherry Creek Country Club and The Club at Ravenna offer a vibrant, community-centered experience to complement their championship golf courses. While both communities present entirely different settings, both clubs feature a collection of heirloom homes, creating a unique opportunity for exceptional club living.
CHERRY CREEK COUNTRY CLUB
As you pass through the gates at Iliff and Yosemite, you immediately exit the noise and pace of southeast Denver for the luxurious serenity of an Old World oasis, replete with lush landscaping, fountains, a Nicklaus-designed championship golf course, European-style stone architecture and all the appointments and amenities of a first-rate resort, including a spa and fitness center. Credit for this paradise belongs to club owner Karen Hart, whose vision to create a world-class experience for members and residents has influenced every detail of the 16-year-old community's development.
Her personal commitment to the entire community is simply contagious. Although her family has been in the golf business for three generations, Hart makes sure her entire Cherry Creek Country Club staff "is committed to letting our members guide us, instead of pushing back to protect our heritage. We always look forward to hearing about new ways to enhance our members' experiences." Since opening in 2002, the enclave of homes was designed to include only 220 residences, ranging from the Villas—a collection of extraordinary patio homes—to the Estates, featuring expansive 10,000+-square-foot lots with fairway views. With all the Villa models completed a few years ago, a limited number of homes are available for resale. Currently, the community has only two residences available as new homes and less than five remaining lots for the Village and Estate properties. Additionally, a select number of current residences are available for resale in the Village and Estate collection.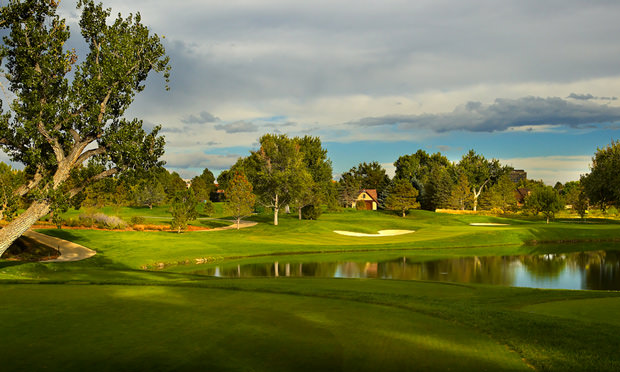 Architecturally, Cherry Creek Country Club offers a collection of heirloom residences reflect-ing traditional craftsmanship as well as a selection of homes with a more contemporary appeal. The meandering streets add to that perfect balance of open fairways bordered by extraordinary properties.
Kate Converse of Cherry Creek Country Club Realty lives within the community and shared her impressive knowledge of it. While Cherry Creek Country Club is reaching its final stages of new construction, Converse says "ninety percent of our homeowners are members of the club, which allows me to stay connected with their real estate interests. We recently saw one of our estate homeowners shift to the Villas while another res-ident decided to move up into the Estates. It's that genuine sense of community that defines the lifestyle here."
Current home prices range from $1.4 million to $2.2 million. There were only 13 existing homes sold in 2017, another indication of the homeowner's appreciation of the Cherry Creek lifestyle.
Potential members have the unique opportunity to visit with Karen Hart personally to ensure their interests align with the club's extensive life-style options. Membership is now just shy of the 400 mark with approximately 50 memberships remaining. For an urban country club with only a 16-year heritage, Cherry Creek CC is already setting the standard for providing a world-class experience. cherrycreekcountryclub.com; 303-489-5505
THE CLUB AT RAVENNA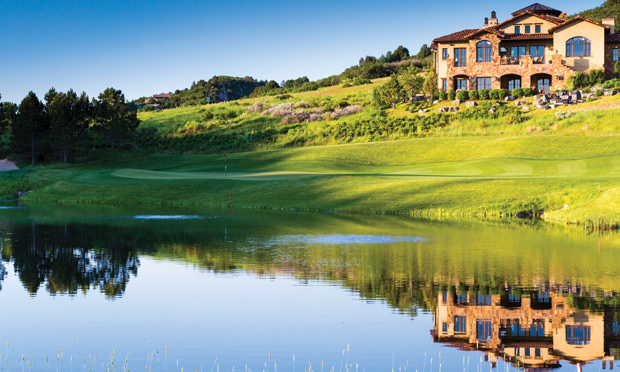 Situated among the ravines, red rock formations and wooded slopes near Waterton Canyon and Pike National Forest, The Club at Ravenna is quickly growing into the premier golf enclave along the southwestern metro corridor. The club, which opened in 2006, presents an exceptional balance between its natural beauty and the elegant architecture that borders the Jay Morrish-designed golf course. GolfWeek rated The Club at Ravenna as one of the top 100 golf communities in the country—a standing that should only improve when the Fitness Center & Pool facility, complete with a portfolio of resort-inspired amenities and a rooftop Sunset Terrace, opens this summer. The foundation is currently in process on the new clubhouse.
Managing Partner Kevin Collins and the Managing Director and Listing Broker Dale Schossow of Liv Sotheby's discuss how their original vision has become a truly exceptional club experience. Just two years ago, there were 30 homes in the community with only 50 members. Today, there are over 72 homes completed with an additional 18-20 now in construction. Membership is on the fast track as well, with 265 currently in place.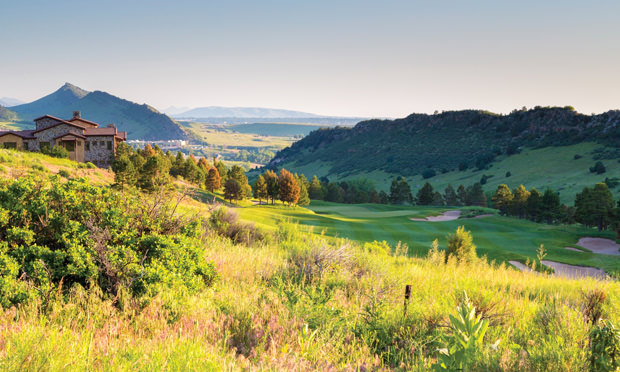 When completed, Ravenna will be limited to approximately 230 residences, ranging from villas to extraordinary estates. "We often are asked by potential home buyers to see our models," Schossow explains. "The first step is actually learning about and seeing Ravenna at large… then look-ing at homes." Working with Ravenna's custom homebuilders directly enables him to show both available spec homes as well as open home sites, allowing the buyers to select the perfect setting.
With a handful of select builders, the community reflects a cohesive, yet individualized architectural style. The Tuscan influences are prominent throughout with addition of some more contemporary architecture to complete the distinctive ambiance. Collins's personal objective is to instill a serene, welcoming impression. "I like to think of it as a sense of arrival, that moment you instantly begin to relax by just driving past the gatehouse." There is a unique beauty to Ravenna, a compelling balance of the natural, rugged land-scape with the impeccably maintained fairways—all home to wandering herds of deer. The entire enclave presents a resort-like ambiance where details matter and is a truly thriving, engaging community that is growing daily.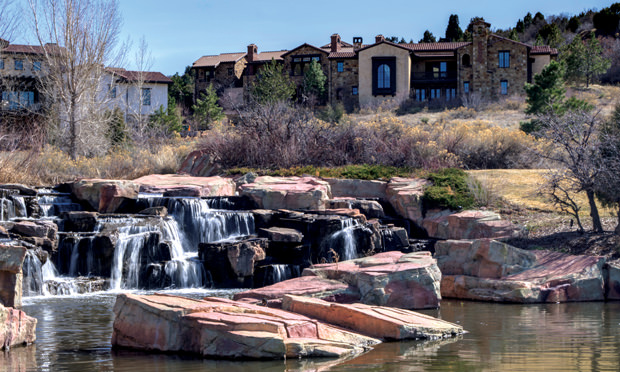 Ninety-five percent of the current homeowners are members of the club and enjoy unlimited access to its exceptional golf course. New home sale prices start at a little over $1 million, presenting a wide array of options and views. Last year, the average sales price for Ravenna was $1.572 million. As the community grows, the extraordinary collection of amenities will certainly add to the rising home values at Ravenna. ravennagolf.com; 720-956-1600
---
Martin Yeager, a realtor with Keller Williams DTC, writes Colorado AvidGolfer's Getting Home section. To find out more about golf course homes and properties, reach him at [email protected] or 303-668-9373. Special thanks to Kerry Comstock of Eagles Nest Construction, Jay Johnson of Vision Real Estate Services and Ben Wolfe of Wolfe Realty Group.
---
Colorado AvidGolfer is the state's leading resource for golf and the lifestyle that surrounds it, publishing eight issues annually and proudly delivering daily content via coloradoavidgolfer.com. Follow us on Twitter, Facebook and Instagram.