A Pro Golfer in the Making!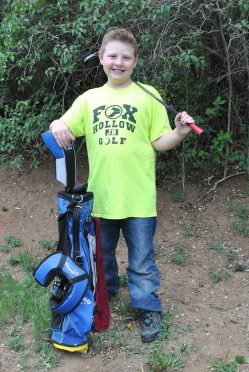 Zeke's grandfather, Kelly Manzanares, works at Fox Hollow and was influential in getting Zeke into the game. Zeke has been golfing off and on for 6 years and says that his golf game is getting better "but I need to work on my short game". Don't we all! In Zeke's first year participating at Fox Hollow in 2014, he made a hole in one during a Junior Golf putting contest. He's been coming back ever since!
While he's not golfing, Zeke enjoys playing baseball, riding his bike and practicing Karate. His favorite pro golfer? Tiger Woods, of course, "because my dad met him in middle school when he was in a junior golf tournament." And if Zeke could golf with any celebrity, it would be Jim Carrey. "He is my favorite actor and I think he is funny and would be cool to golf with." We think that'd be cool too!
---
Fox Hollow's Junior Golf program started June 12th. Our sister golf course's program at Homestead starts July 26. Call 720.963.5181 to register.