Greens in Regulation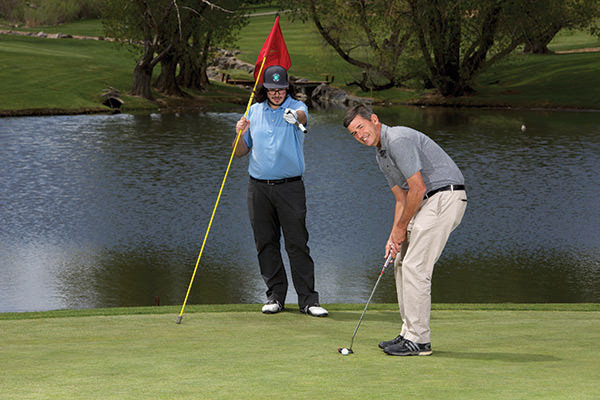 Tom and Connor Green's weekly golf games are less about keeping score than about forging a filial bond.
By Jon Rizzi
---
About eight years ago, news anchor Tom Green and his 14-year-old son Connor—then members at The Club at Pradera in Parker—seemingly had the course to themselves. Through the first six holes they hadn't seen another golfer.
Arriving on the elevated tee of the par-5 seventh, the pair noticed a lone player on the left side of the split fairway. He foozled his approach shot and immediately hurled his club in the same general direction—along with a voluble string of profanities that floated up to the teeing ground.
"Connor and I looked at each other and started laughing," Tom remembers. "Then the guy drops a ball and shanks another one and starts cursing again—and we can hear every f-bomb very clearly."
Sensing a teaching opportunity, father turned to son: "Always act like somebody's watching. Because somebody usually is."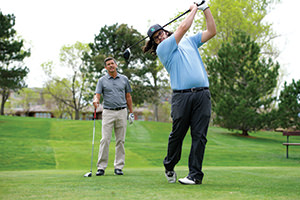 Over the course of the past three decades millions of Coloradans have watched Tom Green—first as a sports anchor on NBC and ABC, and then as the news anchor on "Daybreak" for Channel 2 KDVR-TV. But after 17 years of waking up at 2:30 a.m., the affable, popular Green decided to hang up his lavalier. "When I was sleeping I thought I should be awake," he says. "And while I was awake, all I could think about was going to sleep."
He rose for his last "Daybreak" on May 19, and colleagues such as former 31 newscaster Ron Zappolo and co-host Natalie Tysdale roasted him at a Comedy Works fundraiser the following Wednesday. In between, on what would also have previously been a "school night," the 7-handicap emceed the Colorado Golf Hall of Fame's annual induction ceremony.
"Zap (Ron Zappolo) once told me, 'Don't leave without making sure you have a plan,'" Green says on the practice range at Inverness Golf Club. "That's what he did when he left in 2013. I appreciate his advice, but I'm like, 'Whatever.'"
Green is flip but honest about lacking a plan, though he hints at having a few irons in the fire. For now, no contract means more time with wife Kathy—whom he married in 2011 and earlier this year resigned after three years as Governor John Hickenlooper's communications director—and watching his 15-year-old stepdaughter Rachel's high-school lacrosse games.
And, of course, he'll fill his days with golf, which for the past 15 years he has tried to play at least once a week with Connor, who's now 22. They usually tee off at Inverness or Meridian golf clubs and walk instead of ride. "Golf is an unbelievably valuable way to spend time," Tom says. "With teenagers and millenials, you're lucky to get 40 minutes—and during that time, they're glancing at texts or tweets. Instead, Connor and I get to spend four hours talking about girls, school, life, work. It's our time."
Having that kind of time originally influenced Tom's decision to take the "Daybreak" job back in 2001. As a "part-time single dad," he wanted to be as much of a presence as his own father—with whom he was very close—had been to him.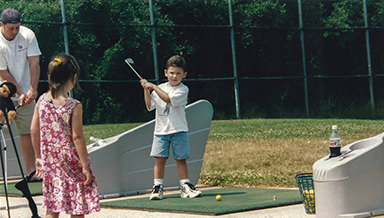 "Connor was going into first grade, and I was doing sports on Channel 7. Ultimately if I was going to stay in sports, which is an afternoon and evening job, I wasn't going to see much of him. This way, I could be awake when he was, spend time, help with homework, do father-son things."
After school, they'd often go to the range at Family Sports in Centennial, where Connor, with Tom as his teacher, would hit balls from the ego-boosting upper deck. In 2005, when Connor was 10, they started going to The Club at Pradera, which had just opened with Tom as one of its members. Twice a month, Connor would take lessons from PGA Assistant Golf Professional Shawn Wills.
"Tom really wanted something he and Connor could do together, a familial connection," remembers Wills, who would take his young charge to the back of the range for privacy. "Tom would come hit balls near us but only if Connor was OK with it. When Connor hit a shot and did it right, I can still remember how proud he was of himself." After every lesson, Connor would eagerly relay what he'd learned to Tom. Then they'd go off and play a few holes.
"What I loved about time with Tom and Connor was that there was no intensity," Wills remembers. "It was fun. There was none of that tension that you get from the parents who want their kids to play college golf."
That lack of intensity—of even keeping a scorecard—has defined their golf experience. "Golf's kind of secondary to us getting together," Connor says. "We get out and usually walk, talk and play."
"When we play together it's more of a cruel competition," Tom explains. "We needle each other but we pull for each other so hard. It's funny, as a dad, you want your kid to beat you. I'll give it my best, but I want him to beat everyone—especially me."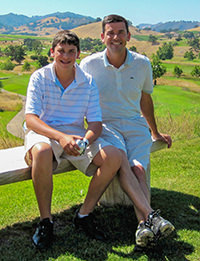 The first time Connor did that was at age 13. He could already outdrive Tom and both remember the day at Lone Tree Golf Club that son nipped father by a shot. "Not that we were keeping score or anything," Connor deadpans. "But we both knew."
Another time, at Meridian Golf Club, Connor also knew when his father, after stringing together birdies down the stretch, was only one-over heading into the par-4 finishing hole. He told Tom, who had never shot even par for a round, that a birdie would do it. "That's a foreign country to me," Tom explains. "So on 18, I hit two good shots and had a five-foot birdie putt to do something I've never done."
And?
"He still hasn't done it," Connor says with a sigh. (Tom  has also never had an ace, but he and Kathy did watch Connor jar one on the 15th at Pradera in 2010.)
Through golf, Connor's self-confidence blossomed. "When you're 13, no matter what you act like, you want to find something you're good at," Tom says. "When your friends see you hitting the ball 275 yards, they're impressed. It validates you, gives you a sense of self-esteem. We played once at Highlands Ranch and he hit driver-gap wedge to five feet on a par 5 and made eagle."
Another confidence-booster has been PGA Champions Tour player Mark Wiebe, a friend of Tom's since they were paired with Dinah Shore during the Gerald R. Ford Memorial Tournament at Vail Golf Club in the late 1980s and won the event. "I don't remember life before Greenie," the 2013 Senior British Open champion says. "I've known Connor since he was born on the same date as my daughter."
Tom estimates he plays at least three-quarters of his golf with Connor and some combination of Wiebe, CBS4's Jim Benneman and Altitude Sports' Kyle Keefe.
"Being a dad, I know that anything we can do with our kids is great," says Wiebe. "I know Tom for a while was nervous that Connor didn't like golf. But I think Connor really likes playing. He played a couple of years in high school at Rock Canyon. He's got a good golf swing. He bombs it. He doesn't scatter it as much as he used to. He's fun to watch."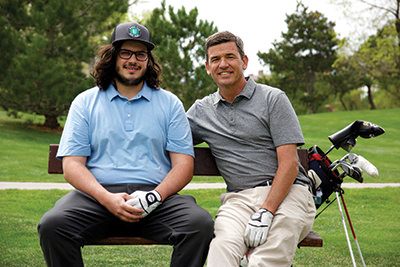 So are he and Tom when they're together. At first glance, you'd be hard-pressed to see a family resemblance. Although both stand above six feet with dark hair, Connor's flowing black tresses and beard contrast with Tom's close crop and clean shave. Tom has the build of an NFL kicker or quarterback; Connor could protect his blind side. Tom plays TaylorMade; Connor, Titleist. Tom's swing is silky; Connor's explodes. Both are fundamentally sound players with sweet short games. Each is the other's best friend.
"When you know Greenie, you automatically think his son's going to be just like him," says Wiebe. "They're not opposites, but complements. Tom's wit is quick; Connor is more the straight man, the Ed McMahon to Tom's Johnny Carson. He doesn't try to compete with his dad's jokes but he's very funny."
"What's really funny is if I tell Connor he should chip with a 7-iron, he ignores me," Tom says in mock exasperation. "But if 'Wiebs' suggests it, Connor does it."
Wiebe laughs. "That happens with my kids, too. But Connor's very curious about the golf swing, and I told him, 'Don't be like every other kid who automatically picks up a 60-degree or sand wedge when they're two feet off the green. Learn how to make shots."
Tom concedes that Mark and Connor are "geniuses" when it comes to breaking down the golf swing. "They're my teachers."
Some of those lessons have come during the many golf vacations Tom and Connor have taken over the years. "From Maui to Montauk," Connor quips. Highlights include Pebble Beach ("We played on Father's Day weekend—the coolest experience I've ever had," says Connor), Spyglass, CordeValle, Long Island's Maidstone, New Jersey's TPC Jasna Polana and Fowlers Mill in Ohio. "We've still got to do Bandon," Tom says.
But when? They'll figure that out—as well as numerous other things—during their daily talks or weekly rounds. They always find the time for both, even though they both currently also find themselves at a professional crossroads: Tom's plotting life after "Daybreak"; Connor's breaking into the restaurant business at Mama Lisa's Little Italy in Castle Rock.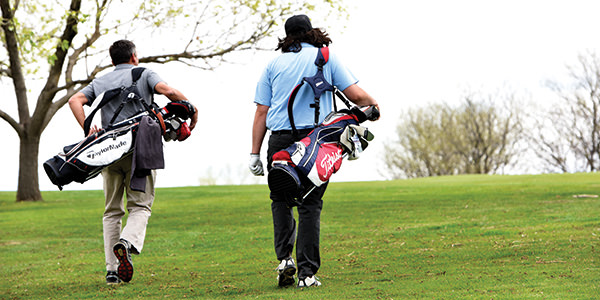 Connor says he regularly applies what he's learned during the rounds he's played with his dad. "I realize if you want to be better, you have to have patience, put in the time and the work," he says. "The rewards follow."
Tom also plans on putting in work on the golf course, but in characteristically irreverent fashion, he says he has no illusion
of improving. To do that might require keeping score. Besides, the former sports-caster says, "I remember when Doug Moe retired from coaching the Nuggets. He said he thought he'd play more golf and get better, but he didn't. 'It's like when I coached,' he joked. 'More Hanzlik doesn't equal better.'"
Hanzlik, as longtime Denver Nuggets fans know, is Bill Hanzlik, a kamikaze defender Moe once jokingly described as "both stupid and amazing." Tom did a radio show with Moe back in the 1990s, and he counts the former coach and Hanzlik among the hundreds of sports and entertainment figures he's played golf with during his 30 years in Colorado.
His all-time favorite? Connor Green.
---
Jon Rizzi is editor of Colorado AvidGolfer.
This article appears in the June 2017 issue of Colorado AvidGolfer. Subscribe today!
Colorado AvidGolfer is the state's leading resource for golf and the lifestyle that surrounds it, publishing eight issues annually and proudly delivering daily content via coloradoavidgolfer.com.Follow us on Twitter, Facebook and Instagram.