Our BRAND NEW HD Video Fitness Series will help you balance life on and off the golf course and get your game in shape…
---
Nothing is more important than balance in our lives. That goes for work and play, family and friends, as well as on and off the golf course. The Pinery and The Club at Pradera's Director of Golf Instruction and Class-A PGA Professional, Jason Witczak, has teamed up with student Elizabeth Carpenter for our new video series, #GetGolfFit, to help you find that balance.
The first video in our 15-part series focuses on balance and shoulder tilt and utilizes two tools that can be found in nearly every golf club around. Pay close attention to how Elizabeth keeps a solid center of gravity and proper swing posture through the entire drill with Jason's guidance.
For the best in golf fitness and tips, follow Elizabeth and Jason on social media!
You can follow Jason Witczak on Instagram with his handle: @JWitPGA
You can follow Elizabeth Carpenter on Instagram with her handle: @Elizabeth_Diane22
---
Dyna Disk Balance Drill: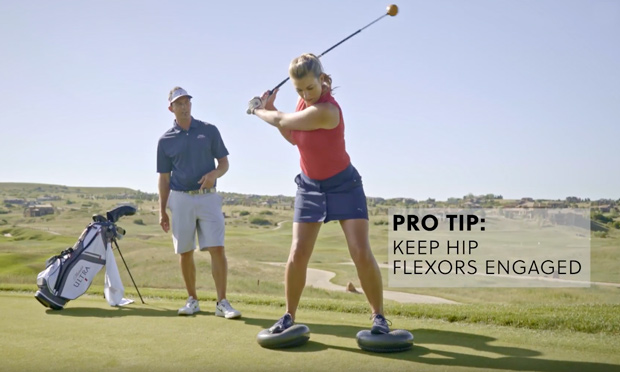 What you'll need:
Two Dyna Disks and an Orange Whip OR a golf club to simulate a swing
How to do it:
Take your normal address stance, placing both feet in the middle of your Dyna Disks, trying to maintain equal weight distribution
Notice that when you grip your Orange Whip or club, your trail shoulder will be lower than your lead shoulder
Take a normal, controlled backswing and feel the required distance between your grip and trail shoulder

During your backswing, notice how your hip flexors activate to keep you in a balanced position

If you struggle to maintain balance, try taking the club back at a slower place

Allow the Orange Whip or club to unwind on the downswing while maintaining your balance on the disks
Repeat until you can swing smoothly without falling!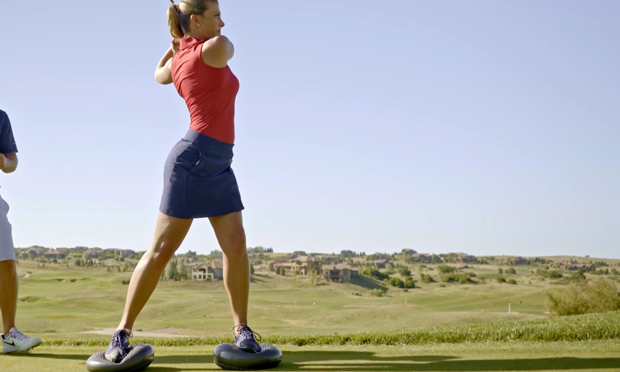 ---
Colorado AvidGolfer Magazine is the state's leading resource for golf and the lifestyle that surrounds it, publishing eight issues annually and proudly delivering daily content via coloradoavidgolfer.com.