This simple one-foot drill will help your weight transfer and strengthen your game!
---
Weight transfer, power and balance are all key parts of a great golf swing. Take a look at this quick, simple drill to help you find the balance to get your golf game in perfect shape.
The Pinery and The Club at Pradera's Director of Golf Instruction and Class-A PGA Professional, Jason Witczak, is back with student Elizabeth Carpenter for the latest in our video series, #GetGolfFit!
The third installment is all about balance and weight transfer in the golf swing. Notice how Elizabeth takes a controlled backswing to ensure her balance stays corrected on her trail foot, and when she strides out all of her weight transfers through the impact zone of the golf swing. Give it a try at home!
For the best in golf fitness and tips, follow Elizabeth and Jason on social media!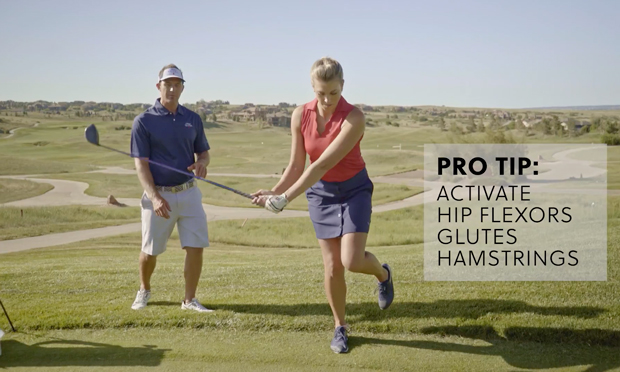 You can follow Colorado AvidGolfer on Instagram with our handle: @ColoradoAvidGolfer
You can follow Jason Witczak on Instagram with his handle: @JWitPGA
You can follow Elizabeth Carpenter on Instagram with her handle: @Elizabeth_Diane22
---
One-Foot Drill for Balance and Weight Transfer:
What you'll need:
One golf club (mid-iron preferred)
BALANCE!
How to do it:
Take a normal address position, then lift your lead foot
Take a slow, controlled back swing
Pause at the top of the backswing, ensuring your lead arm is straight
Maintain your balance with a very slight knee bend
As you begin your downswing, take a slight stride out with the raised

This should place your lead foot in optimal position as your club extends through the bottom of the swing

As you stride, allow your weight to transfer with the swing of the club!
---
Colorado AvidGolfer Magazine is the state's leading resource for golf and the lifestyle that surrounds it, publishing eight issues annually and proudly delivering daily content via coloradoavidgolfer.com.