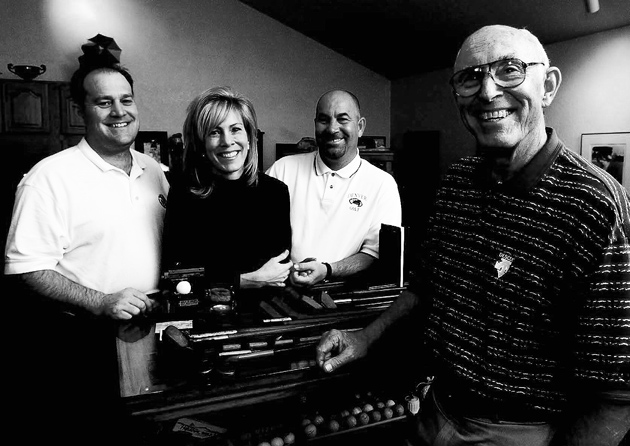 Hoos taught and coached at Boulder's Fairview High for 30 years.
By Jon Rizzi
In 1990, when George Hoos retired after 30 years of coaching the golf teams at Boulder's Fairview High School, his former players threw him a party at Flatirons Golf Course. "We all loved George, so we all chipped in and bought him and [his wife] Jean a Hawaiian golf extravaganza," remembers Jim Kauvar, a member of the team that won the state 5A championship in the spring of 1973.
"George didn't have to let me be on the team," Kauvar says. "I'd messed up my shoulder really badly in a football game the previous fall and was unable to compete on the basketball or golf teams. I had shoulder surgery, and the football and basketball coaches didn't care enough to come see me in the hospital. Not George. He cared enough to visit, and he made sure I felt included on the team even though I physically couldn't play. I'll never forget that."
Hoos, who died September 23 at the age of 84, left similarly indelible impressions on thousands of people. Among the most notable were the Fairview standouts who won state high-school championships: Pete Dawson, Tim Brauch and Bob Byman.
A winner on the PGA Tour and a 2008 Colorado Golf Hall of Fame inductee, Byman was also the 1972 U.S. Junior Amateur champion and three-time winner of the CGA Amateur (then known as the Stroke Play) Championship.
"It seemed like I won every event I entered back then," Byman recalls. "And a lot of that had to with George. I started with him when I was 15 and he was one of the top 10 players in the state. I was pretty decent but my fundamentals were such that they were not going to let me develop. George got me to swing in a more fundamental manner. He came up with some very significant ideas—such developing as a neutral grip—that enabled me to express myself as a golfer. We worked on things it would have taken me years to figure out on my own. He was a tremendous time compressor."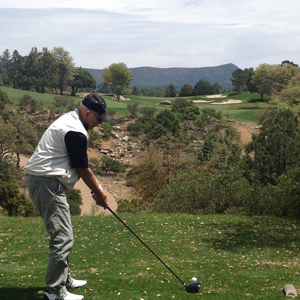 An earlier Hoos admirer was University of Colorado golf coach Les Fowler, for whom George played from 1953 to 1955. A member of the Buffs team that won the 1954 Big 7 Conference title and shared it the following year with Oklahoma, Hoos also competed in the NCAA Championship Finals both of those years.
After getting his M.A., Hoos became a Social Studies teacher at Fairview, which was then located across the street from his house at the corner of Cherryvale and Baseline in Boulder. He coached the boys' and the girls' golf teams—the latter of which he started—and constructed an outbuilding on his property to build, repair and re-grip clubs so kids on his team who lacked money for golf gear would always have access to equipment.
That workroom, along with an netted area for hitting practice shots, occupies the first floor of the two-story structure. The second floor contains his collection of golf memorabilia and family photos, many of which include one, two or all three of his children—Jon, Eric and Kristine.
All three played golf for their dad in high school. Jon went on to compete collegiately and professionally before pursing a career as an aerospace engineer. Eric, who won a 1991 Nike Tour event, spent 15 years as the head coach of the University of Denver men's golf team and now coaches Kristine's son, Walker Franklin, at Prospect Ridge Academy in Broomfield. Kristine, who played on the Japanese LPGA Tour before starting a family, returned to the ranks of amateur golf by winning this year's CGA Women's Senior Stroke Play more than three decades after capturing the 1986 CWGA Stroke Play as a 20-year-old student at the University of Arizona.
They all caddied for their dad, and he returned the favor—once even looping for Kristine in Japan. "I thought she was going to kill me caddying, with the heat," George said in a 2003 story for Colorado AvidGolfer.
"The only dry part of Dad's pants was about six inches at the bottom of his trousers," Kris added.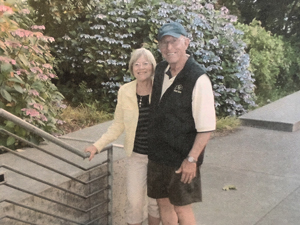 George took this "ready-made foursome" on golf trips to such destinations as Ireland and Scotland. On spring breaks, he also went with his Fairview teams to San Diego, where they'd stay in the dorms at Point Loma Nazarene College and experience courses like La Costa, Coronado and Singing Hills (now Syucan).
At the beginning of every golf season, Coach Hoos also brought his Fairview teams to play all the courses on the schedule—including where the state championship would be held. "We never went into any event cold," Kauvar said.
A born teacher, the coach made a point of drilling the Knights on The Rules of Golf and how to apply them to different situations. Plus, his extraordinary knowledge of the game allowed him to help his players make subtle swing changes that led to substantial improvements.
In addition, Hoos helped start the summer junior golf program at Flatirons and for years had a booth at the Denver Golf Expo, where he bought and sold used and vintage clubs.
"He's affected so many people's lives in such a positive way it's unbelievable," Eric Hoos posted on Facebook. "He was a great teacher and mentor and will be sorely missed but never forgotten."