DENVER — University of Colorado freshman Victor Bjorlow rode a second round 1-under par 71 to claim medalist honors here Sunday in the  Colorado Mines-Bob Writz Invitational.
Bjorlow all but tamed the challenging Bear Creek Golf Club's 7,232-yard, par-72 layout after opening with a 4-over 76 on Saturday.He came back with three birdies and 13 pars against just two bogeys in his second 18 on the day, and in the process recorded the only subpar round in the 36-hole meet in finishing with a 3-over 147 score.
Bjorlow is just the third player in CU history to win a tournament of 36 holes or more in his freshman year. He joins Tobias Forsgren (1998 Colorado State Invitational, 36 holes) and Jeremy Paul (2014 Oregon Duck Invitational, 54 holes).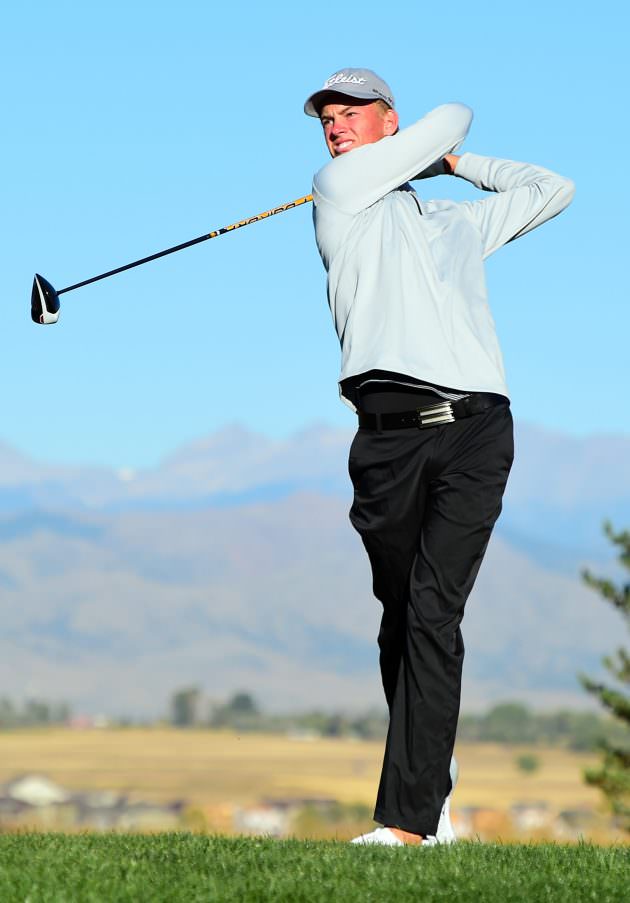 CU freshman Victor Bjorlow, a Dane from Sotogrande, Spain, wins at Bear Creek.
He defeated senior teammate, Ryan Schmitz, by one shot. Two other Buffs competed as individuals, with Wilson Belk turning in an 80-84—164 scorecard (20-over) to tie for 35th, with junior Kade Crossland one back at 165 (86-79) to tie for 37th in the 63-man field.
Schmitz was tied for the lead after Saturday's opening 18, when he carded an even-par 72 (one of just five even-par rounds in the meet); he had three birdies and 13 pars, the latter the most in the field, against a bogey and a double. He had more of an up-and-down round the second time around the Bear Creek track Sunday, with five birdies and seven pars but was countered by three bogeys and three doubles. His eight birdies on the day tied for the most in the field.
Bjorlow persevered after a rough start; he opened with two pars and then bogeyed No. 3, but disaster was looming. He took a quadruple bogey 8 on No. 4, sending to 5-over par through just four holes. He then went par-bogey-par and stood 6-over through No. 7, but would play his final 29 holes at 3-under. He led the field in par-5 scoring, playing the eight for the meet at 5-under.
"I kept the good playing going from yesterday, knowing where not to make the mistakes I did in the first round," Bjorlow said. "I had a quadruple and a double early on but tried to concentrate on what I did well. I birdied the fourth hole today after making an 8 on Saturday, where I hit it left, tried to recover but didn't very well, and then three-putted. Today I hit a 4-iron to the middle of the fairway, hit a wedge to about two yards off the green and 10 yards from the pin, and then holed the chip."
Bjorlow won after just previously playing the course once in a practice round on Friday. "This is an incredibly difficult golf course, and the greens are really tough with two and three different levels," he said.
"My ball-striking was pretty good, and when I put myself in a couple of difficult situations, I putted well," he said of what worked best for him on the weekend.
"These greens are so difficult, I put tried to put myself in the right situations." His two bogeys on Sunday were his only three-putts on the challenging, or at times, circus-like greens.
Bjorlow was also surprised to hear about his historical accomplishment of winning a tournament as a freshman. "I'm obviously proud, it's something I didn't know," he said. "I haven't played as well that I had hoped so far my freshman year. This should give me some confidence heading into the rest of the season. We have some big tournaments ahead of us and I want to be ready to contribute if called upon."
In the team competition, Colorado State-Pueblo won with a 38-over par 614 team score, edging Colorado Christian by two shots and No. 44 (Division II) CU-Colorado Springs by six.
Up to four individuals are permitted to play in events that subsequently are not counted toward the team's total of competition days (though they count toward the four who do play, thus usually those who participate are not regulars on the travel squad.
The full Buffalo team will return to action in 10 days, competing in Stanford's "The Goodwin"in Palo Alto from March 30 through April 1. It's the next-to-last tournament ahead of Colorado hosting the Pac-12 Championships at Boulder Country Club April 28-30.
Player Team Scores
1 Victor Bjorlow * Colorado 76 71 147 +3
2 Ryan Schmitz * Colorado 72 76 148 +4
3 Alan Berry * Colorado School of Mines (B) 74 75 149 +5
4 Andrew Kennedy Colorado Christian 77 73 150 +6
T5 Blake Young Colorado – CO Springs 79 72 151 +7
T5 George Markham Colorado School of Mines 75 76 151 +7
T7 Doug Kulikowski Bentley 74 78 152 +8
T7 Colin Prater Colorado – CO Springs 78 74 152 +8
T9 Tyler Quast * Colorado School of Mines (B) 77 76 153 +9
T9 Chase Federico * Colorado State – Pueblo 81 72 153 +9
T9 Danny Parker Dominican College – NY 76 77 153 +9
T9 Jacob Allenback Colorado State – Pueblo 81 72 153 +9
T13 Roy Carlsen Colorado State – Pueblo 79 75 154 +10
T13 Taylor MacKay Colorado School of Mines 77 77 154 +10
T13 Josh Gardella Colorado Christian 77 77 154 +10
T16 Jack Cummings Colorado Christian 80 76 156 +12
T16 Jake Ice Colorado State – Pueblo 72 84 156 +12
18 Hayden Nicholaides Colorado Christian 80 77 157 +13
T19 Cal Meyers Bentley 83 75 158 +14
T19 Jay Cottam Nebraska – Kearney 77 81 158 +14
T19 Joe Vest Midland University 76 82 158 +14
T19 Nic Beno Colorado School of Mines 81 77 158 +14
T19 Neil Tillman Colorado State – Pueblo 79 79 158 +14
T24 Nolan Backman Colorado Christian 79 80 159 +15
T24 Tanner Comes Colorado – CO Springs 78 81 159 +15
T26 Ji Jang Colorado – CO Springs 80 80 160 +16
T26 Zach Berhost Colorado – CO Springs 78 82 160 +16
T28 Chris Simione Bentley 83 78 161 +17
T28 Preston Walford Midland University 83 78 161 +17
T28 Hunter Giesselmann Midland University 79 82 161 +17
T28 Austin Burgess Colorado State – Pueblo 84 77 161 +17
32 Jordan Bass Colorado School of Mines 79 83 162 +18
T33 Eric Marshall * Colorado School of Mines (B) 81 82 163 +19
T33 Hunter Wescott Dominican College – NY 81 82 163 +19
T35 Wilson Belk * Colorado 80 84 164 +20