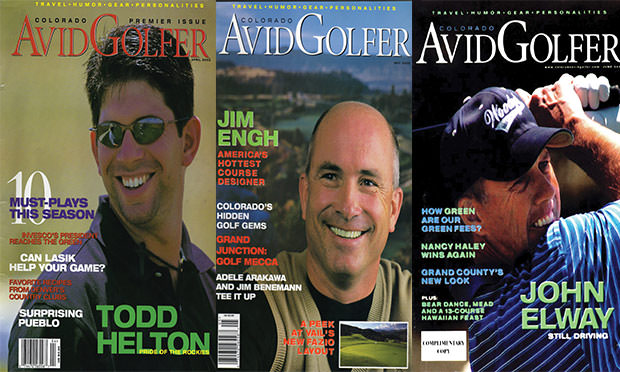 Todd Helton,  April
2002: Coming off an all-star season (49 home runs, 146 RBI, .336 batting average), the 28-year-old Rockies first baseman had a year earlier signed a $151.5 million deal that would keep him in purple and black for his entire career. A left-handed batter and thrower, Helton plays golf right-handed, sporting an 11 handicap without teeing off once during the baseball season. "You only get so many days off and I would rather relax," he said. "Not that golf's that physical, but it's too physical for me during the season."
2017: The Toddfather, who retired after the 2013 season as the Rockies' all-time leader in just about every offensive category, is currently back at his University of Tennessee alma mater as a volunteer for the Volunteers.
"My title is player development," says the 1995 National College Player of the Year. "I show up when I want. It's just a way to get back into it without a full commitment, which I wasn't quite ready to do."
Helton's flexible schedule allows him to commit to his main pursuit: golf. He plays at least four times a week, and, he says, "one of the best things about the job is UT's golf practice facility is on campus." He works with Sean Pacetti, the men's golf team's director of instruction and player development.
"I never learned the golf swing like I learned the baseball swing," Helton explains. "But since I'm not hitting it left-handed, I don't have to unlearn anything."
He has learned that he's not hitting the ball as far as his swing speed would suggest. "How does a guy with the same swing speed as me, who's 5-foot-6 155 pounds, hit it 100 yards further than I do?" he asks. "It reminds me of those little skinny pitchers who could throw it 100 miles per hour."
Helton plays to a 7 at Tennessee National Golf Club in Loudon, a 30-minute drive from the Knoxville home that's only two miles away from the house in which he grew up. The Greg Norman-designed course was the site of his first and only hole-in-one last fall. It came with a 4-iron from 205 yards on the par-3 third. Around the same time, he had the privilege of playing The Olde Farm Golf Club, just over the border in Virginia, with his former backup on the Tennessee football team, Peyton Manning.
The two are also members at Castle Pines Golf Club, where Helton plans on teeing it up when he returns to his ranch in Kersey this summer. He also will get out at Bear Creek Golf Club, where one of his regular playing partners, erstwhile radio personality Rich "G-Man" Goins, is membership director.
That won't happen until the UT baseball team finishes its season, possibly as late as June. The Vols got off to a great start this season, winning 12 of their first 14—with 14 freshmen on their roster.
"Freshmen are different now than I remember," Helton says. "They're not short on confidence. They work out regularly in a weight room right in the stadium, watch what they eat and drink. I promise you," he says with a laugh, "I didn't worry about one thing I ate or drank when I was in college."
He urges the players to mind the details that will lead to consistent performance.
"To me it's kind of like the golf swing," he explains. "You can go up there and you might occasionally have a good round without putting much thought into it. But in order to get better, to be consistently good, you need to do things exactly the same way every time—the same pre-shot routine, envisioning your shot, setting up, aligning your feet and club, swinging with the same rhythm, on the same plane. I want them to prepare—without taking the fun out of the game."
It's what No. 17 did with the Rockies for 17 years.
Jim Engh, May
2002: Basking in the critical acclaim of The Golf Club at Redlands Mesa, the architect of Sanctuary was finishing Tullymore Golf Club in Michigan, The Club at Black Rock in Coeur d'Alene, Idaho, and putting the finishing touches on Golden's Fossil Trace Golf Club, which would open in 2003, the same year in which he won Golf Digest's first Golf Course Architect of the Year Award.
2017: With two-dozen courses to his credit around the world—including nine in Colorado—Engh and business partner Mitch Scarborough continue to create adventurous golf landscapes in such places as China, Vietnam and Thailand. He and his wife Monie recently moved from one home on a course he designed—the Golf Club at Pradera in Parker—to two on two. They spend summers by The Club at Black Rock in
Coeur d'Alene and winters on his layout at Blackstone Country Club in the Vistancia community in Peoria, Arizona.
John Elway, June
2002: Three years into retirement from the Denver Broncos, the two-time Super Bowl champion quarterback was hosting the Sun Microsystems/Elway Celebrity Classic, a Celebrity Players Tour event at the Omni Interlocken in Broomfield. Rumors swirled about ownership of an Arena League Football team, as well as a divorce from his wife, Janet—both of which came true the following year.
2017: As Executive Vice President of Football Operations and General Manger of the Broncos, Elway has put together two teams that went to the Super Bowl—the most recent trip resulting in victory in 2016. Four restaurants and three car dealerships now bear his name. His role as president of Cherry Hills Country Club led to its hosting the 2014 BMW Championship, Colorado's first PGA Tour event in seven years. He now serves as honorary chairman of the 2018 U.S. Senior Open at The Broadmoor, an event in which the 2-handicap also hopes to compete in the May 28 qualifier at The Broadmoor, which will host the championship June 25 – July 1. 
Joe Sakic, July
2002: About to begin his 15th season with the Avalanche, the two-time Stanley Cup champion had in February led Team Canada to its first Olympic gold medal in a half-century. Tim DeFrisco photographed Sakic on the first tee at Sanctuary, where he would that month host the golf portion of the Fifth Annual Joe Sakic Celebrity Classic, which raised enough funds to enable Food Bank of the Rockies to provide 1.1 million meals for less fortunate children.
2017: Currently in his fourth season as executive vice president/general manager of the Avalanche, the Hockey Hall of Famer is also a member of Cherry Hills Country Club, where his powerful southpaw swing has produced a 1.4 index. On August 17, he will host the 20th sold-out edition of the Joe Sakic Celebrity Classic, presented by REMAX, at Sanctuary, and two days later, the Hyatt DTC will welcome The Joe and Debbie Sakic Bringing Hope to the Table Dinner presented by CoBank and RBC Wealth Management. With proceeds of these events continuing to benefit the Food Bank of the Rockies' children's hunger relief programs, the Sakics will have made possible more than 20 million meals to the 25 percent of all Colorado kids who struggle with food insecurity.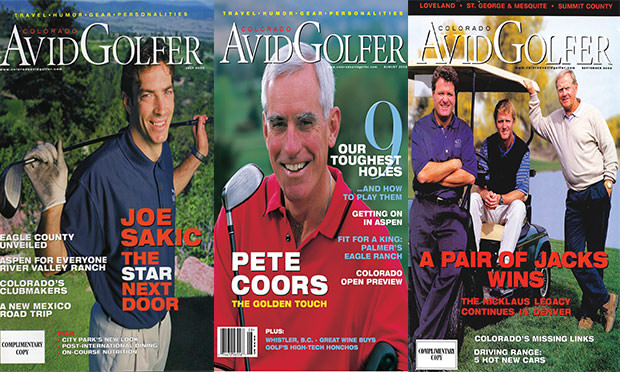 Pete Coors, August
2002: Photographed by Rich Clarkson at Rolling Hills Country Club, the iconic chairman of the Coors Brewing Company had recently promoted Leo Kiely, whom he'd hired years earlier after playing two days of golf together in Arizona, to Global CEO and President. Coors sported a 17.9 index and belonged to at least four clubs, including Castle Pines and Augusta National.    
2017: After a decade and a half of corporate expansion during which Coors merged with Canada's Molson Brewing and, eventually, acquired sole ownership of Miller Brewing and numerous other brands, Molson Coors has become the third-largest brewer in the world. The 70-year-old Colorado icon currently serves as vice-chairman of the Molson Coors board of directors as well as a trustee of the Adolph Coors Company and Foundation and Coors Trust. Despite playing avidly, his index has risen to 21.
Stacey Hart,
Jack and Jackie Nicklaus, September
2002: After purchasing the land at Iliff and Yosemite formerly occupied by Los Verdes Country Club, the son of Colorado Golf Hall of Famer Ted Hart hired the Nicklauses to build an entirely new course to anchor his posh gated community at Cherry Creek Country Club. The 7,405-yard layout marked Nicklaus' tenth in Colorado and the first of three in the state with  Jack II as co-architect.
2017: Karen Hart, Stacey's ex-wife, now owns and operates Cherry Creek, which has thrived under her aegis. After owning a number of golf facilities in Colorado—including Plum Creek Golf Club and Vista Ridge (now Colorado National)—Stacey owns Deer Creek Golf Club in Littleton. Splitting his time between Denver and Palm Springs, Hart says he's looking into developing lots along Deer Creek's driving range and possibly making improvements to the Littleton course this year.
At age 77, Jack Nicklaus, who appeared on Colorado AvidGolfer's Fall 2015 cover in connection with the Century of Golf Gala, continues to design golf courses. Nicklaus Design has more than 410 courses around the world, with Jack II directly involved in most of them as the firm's president.
Jill McGill, October
2002: At July's U.S. Women's Open at Prairie Dunes, the 30-year-old Denver native went into Sunday two shots off the lead and playing in the final group. McGill, who'd previously won two USGA championships (the 1993 U.S. Women's Amateur and the '94 U.S. Women's Amateur Pubic Links), would tie for 12th after shooting a 78 in the final round.
2017: McGill lives in San Diego, where she says she's "playing enough golf to ensure my game is dramatically decreasing." She last competed in November's TaylorMade Pebble Beach Invitational and checked the "retired" box when she paid her LPGA dues. "It was a tough pill to swallow," she says, "but with a one-year-old and a five-year-old, my concerns are poopy diapers and sneaking spinach into my kids' meals."
Married since 2006 to Patrick Byerly—the senior VP of Competitor Group, an endurance sports event company—McGill for the last seven years has moved from San Diego to New York, Los Angeles and Dallas before returning to San Diego. "Between us, we had five job changes," she explains.
The biggest change came in 2012 when McGill gave birth to her daughter, Bella. She brought her on the road to LPGA Tour events, but soon realized it was "for the birds. The LPGA has tremendous daycare with great volunteers, and the players love it, but it just wasn't for me."
So she stepped back from the travel, taught golf to juniors in Dallas and got certified as a personal trainer.
"I played on tour for almost 20 years, and it is not reality—especially if you have some success," says McGill, who has earned $2.3 million during her career. "My husband always told me, 'When you get off tour, you won't know what hit you.'"
What hit her was the reality of parenthood after their son, Blaze, arrived last year with a heart problem that required surgery. He's doing great now, but that experience—as well as having recently had basal-cell removal—gave her perspective. "When you have a one-year-old laughing at you, how can you not embrace that?" she asks. "My life isn't completely wrapped up with them, but I'm at the point where people I know are dying, and I really appreciate time with my kids."
Still, the 45-year-old member of both the Colorado and University of Southern California halls of fame admits she was intrigued by the recent announcement that players 45 and older would be eligible for July's inaugural Senior LPGA Championship. "I'm in," she says with a chuckle. "That is, of course, if anyone wants to volunteer to watch the kids so I can get my game back."
---
This article appears in the April 2017 issue of Colorado AvidGolfer. Subscribe today!
Colorado AvidGolfer is the state's leading resource for golf and the lifestyle that surrounds it, publishing eight issues annually and proudly delivering daily content via coloradoavidgolfer.com. Follow us on Twitter, Facebook and Instagram.