From Clubs to Clothes, 9 New Products to Check Out Now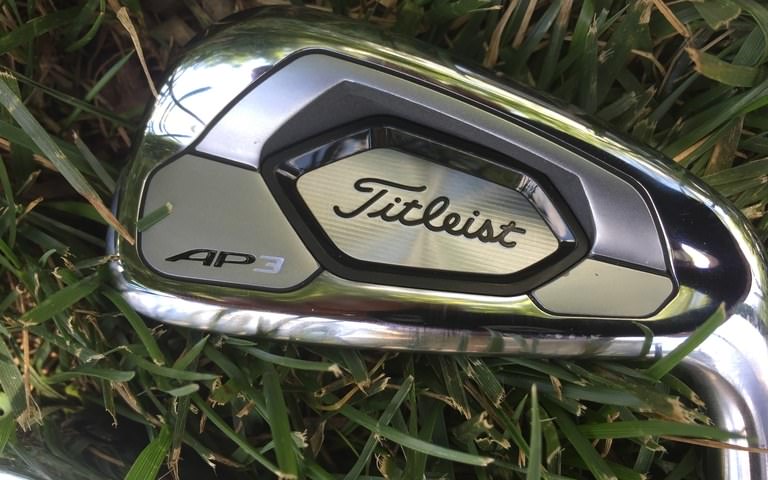 By Tony Dear
We're abandoning the single-item focus this week because of the recent spate of product launches. There was just too much good, new stuff floating around. We dare say we missed some stuff too.
---
Tour Edge CBX Iron-Wood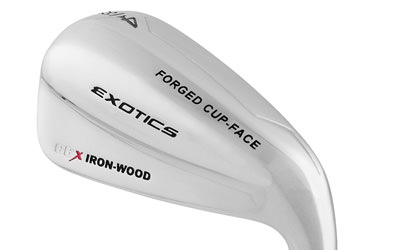 Tour Edge's first iron/wood club appeared well over 20 years ago, and the club has been through a few mutations since. The newest version is definitely more iron-like than wood in the looks department, but achieves almost wood-like distance thanks to new innovation.
The L-Face features an L-shaped insert that wraps around the sole and provides the maximum-allowed USGA trampoline effect. The insert is made from HT 980 Steel which was also used on the company's EX10 fairway woods and hybrids.
$200 (limited edition Black Pearl version – $250)
Available in 17°, 19°, 22°, and 25°.
touredge.com
---
Titleist 718 AP3 Irons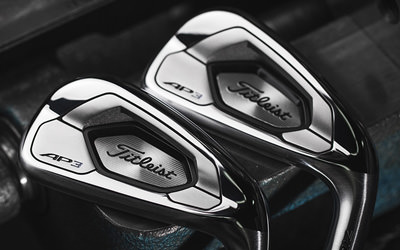 Titleist's 718 Series of irons consists of six models—AP1, AP2, the new AP3, MB, CB, and T-MB—all aimed at what the company calls the "dedicated golfer." Justin Thomas won the PGA Championship using the handsome AP2 blade, and  Jordan Spieth hit that shotfrom the range to the right of the 13th hole during the final round of the Open Championship with a T-MB 3-iron.
The 718 AP3 is described as a 'player's distance iron' and features a hollow-blade design with high-speed face technology. Titleist says it is a merging of everything their R&D department learned while creating the AP1 and AP2 irons.
An average of 84.9 grams of tungsten is positioned in each head to produce higher ball speeds across the face. The aim is to create a club that performs like a game-improvement club but looks like a player's club.
Steel – $185 per club, or $1,300 for eight irons ($162.50 each)
Graphite – $210 per club, or $1,500 for eight irons ($187.50 each)
titleist.com
---
Titleist 818 Hybrids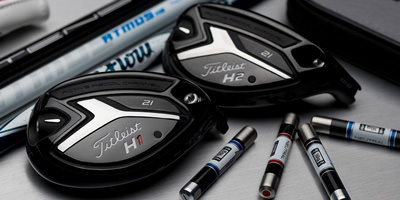 Who foresaw hybrid technology becoming so advanced? Well, it's the way golf/the world is going, of course. The Titleist 818 is available in two versions—the H1 is for those who prefer the look of woods and have a more sweeping action, while the H2 works better with a steeper attack on the ball and is aimed at those who prefer the look of an iron.
New SureFit technology and a new 16-setting adjustable hosel make the 818 extremely versatile, maximizing customization. The Active Recoil Channel 2.0 is designed to generate faster ball-speeds across the face.
The new 818 has a 10% higher MoI than previous Titleist models which, coupled with a low CG, makes an extremely forgiving club that launches high and stops quickly.
There are six, top-quality, stock shafts made by Mitsubishi, Fujikura and Project X from which to choose and a number of custom choices many of them available at no extra cost.
$280 (MAP)
H1 is available in 19°, 21°, 23°, 25°, and 27°. H2 in 17°, 19°, 21°, and 23°.
titleist.com
---
Bradley Allen Autumn/Winter 2017 Capsule Collection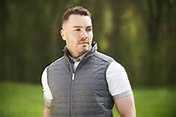 Inspired by autumnal colors, Bradley Allen's Brad Franklin-designed Autumn/Winter Capsule Collection is ideal for both the golf course and wherever else you might find yourself. The collection features classic pullover and sweater designs combined with modern fabrics and new Italian stretch twill bottoms.
Highlights include:
PrimaLoft Vest: The first golf-specific vest to be constructed using PrimaLoft® Silver Insulation Boost delivering unprecedented warmth-to-thickness for maximum performance in a lightweight, minimal silhouette.
Cotton-Cashmere Seed Stitch Crewneck Sweater: Combining cotton with the luxurious feel of cashmere for unparalleled comfort and playability. Exceptional versatility makes it perfect for an early-morning round or Friday afternoon in the office.
Sweaters start at $100.
bradley-allan.com
---
Cleveland TFi 2135 Putter

The updated TFi 2135 putter comes with five new head shapes, a new Tour Satin color scheme, and innovative alignment and speed control technologies. Speed Optimized Milling adjusts energy transfer so that every putt rolls to the same distance regardless of where it is struck on the face.
Sightlines are raised 21.35 millimeters off the ground—the exact radius of a golf ball—which Cleveland says improves alignment regardless of address position.
The standard models are 1.0, Rho, Elevado and Cero; the counterbalanced models are 8.0 and Elevado CB.
Standard heads with midsized pistol grip – $150 (MAP).
Standard heads with oversized grips – $160 (MAP).
Counterbalanced models – $180 (MAP).
clevelandgolf.com
---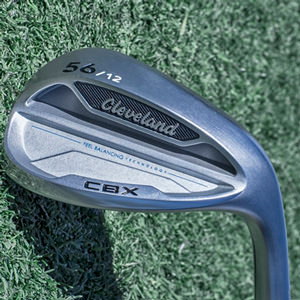 Cleveland CBX Wedge
The CBX is a cavity-back wedge designed for golfers who play cavity back irons. It is designed to be more forgiving and easier to hit than Tour-designed wedges, but more versatile and offer more spin (thanks to the Rotex face) than set-matching wedges. The Dual-V Sole Grind is designed for better, more forgiving turf interaction, and provides the mid/high-handicapper more assistance with getting out of bunkers. And the Feel Balancing Technology, introduced last year in the company's RTX-3 wedges, repositions the CG in each wedge for better feel and distance control.
$130 Steel, $140 Graphite.
Left and right-hand.
46° – 60°.
clevelandgolf.com
---
Cobra F-Max Driver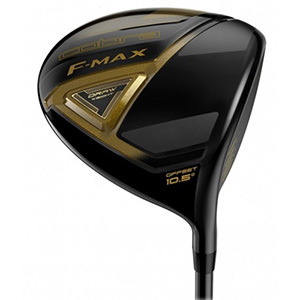 Cobra says the new F-MAX Series (drivers, fairways woods, hybrids, irons) features the lightest, easiest to hit woods and irons the company has ever made. The clubs come in both conventional and single-length versions.
"When it comes to this category, it can't be overstated how important lightweight construction is," says Tom Olsavsky, VP of R&D for COBRA Golf. "With the creation of F-MAX we have focused on the concept that lighter means easier to hit, and we have gone to great lengths to ensure that even our components deliver superiority when it comes to reduced weight."
The driver has a Superlite 50 shaft, and the larger, Lamkin REL 360 midsize grip improves comfort and consistency off the tee, Olsavsky adds. The forged Ti-6-4 titanium face insert is engineered to deliver more speed and a larger Sweet Zone for better distance on mishits. Internal weighting positioned near the heel promotes a more forgiving, higher, straighter ball-flight while a new crown alignment feature makes it easy to align the clubhead at address.
$300
Available in: 9.5°, 10.5°, 11.5° (15° for women) in both straight neck and offset versions.
Fairway woods – $200. Available in 16°, 20°, 23° (19°, 23° and 27° for women).
Hybrids – $180. Available in 19°, 22°, 25°, 28° and 31° (23.5°, 26.5°, 29.5° and 32.5° for women)
cobragolf.com
---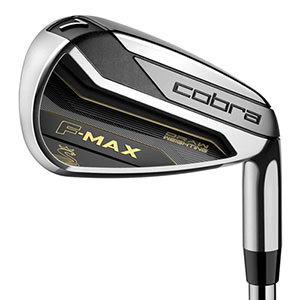 Cobra F-Max irons
The Cobra F-Max irons employ many of the same speed-enhancing ideas found in the woods, including the lighter shafts, lighter swingweights and larger grips. The 4-7 irons use a thinner-faced 17-4 stainless steel construction, while the short irons feature a softer 431 stainless steel aimed at improving feel and control.
The 4-6 irons have two degrees more loft than the F7 iron, while the 7 and 8 irons have 0.5 degrees more. This is done to help higher handicappers achieve higher launch angles.
$600 (5-PW)
$700 (4H, 5h, 6-PW)
$500 for one-length set (6-PW)
cobragolf.com
---
CaddyDaddy Ranger Bag

It may not have attracted quite as much attention as the products above, but I for one am glad CaddyDaddy came out with the Ranger Bag which is perfect for range sessions, and even a quick nine holes when all you need is a few clubs, a couple of balls and a few tees. They call it a Sunday bag, but I'd use it any day of the week. Made of "ultra-durable" 1680D nylon fabric, the Ranger Bag weighs 3.5 lbs, and is available in Black/Navy or Black/Silver.