Closest to the Kin
by Jon Rizzi
---
With Father's Day as the general topic for this month's column, I fittingly began writing it on Mother's Day. It's appropriate because, with my mom long gone and me and the mother of my own children now married to other people, I celebrate my father on Mother's Day, too.
Then again, every day my father is alive occasions a celebration. He just turned 95.
His father died when my father was three years old. My grandmother never remarried. Even without that patriarchal influence to model, John (nee Giovanni) Rizzi became a great father to my sister and me—and he never once took us to the golf course to accomplish it.
But after 20 years of writing and editing about golf, I get why intergenerational relationships play such a pivotal role in the game. How could I not in a sport whose modern history begins with Old and Young Tom Morris and continues with Jack and Jackie at Augusta in '86 and the Earl and Tiger Woods Show?
Conversely, the game also plays a pivotal role in the relationship. Father-son golf is not just about passing along knowledge about putting and chipping. Nor is it just about teaching honor, integrity and other qualities that golfers sanctimoniously tend to espouse. It has a great deal to do with learning patience, respect, perseverance, how to handle adversity and not to take yourself too seriously.
But it's become even more. With the distractions of tweets, texts, emails, posts and phone calls, the opportunity for a kid to spend three or four focused hours with his or her parent is rare—but increasingly essential.
Golf provides that opportunity. Its leisurely pace spurs conversation. The course becomes a classroom, a confessional, a place to talk about school, news, sports, friends, girls, life. Texts don't show body language or communicate tone.
Frankly, besides taking the occasional photo or getting yardage with an app, I can only think of one edifying use for a smartphone on the golf course—and it's not to play music or make emergency phone calls. If someone throws a club, cusses up a storm, takes relief behind a bush or generally acts like a horse's ass, someone could capture it on video. The lesson: Always act like someone's watching.
Starting with our cover story, this issue looks at golf through the prism of parenthood—and vice-versa. Tom Green and his son, Connor, forged their bond over hundreds of rounds. Tom, a self-described "part-time single dad" who had a very close relationship with his father, discovered golf as the vehicle through which he could replicate that intimacy with his own son.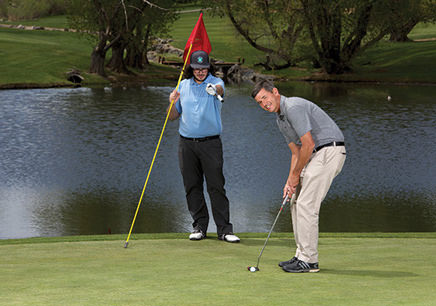 Instruction-wise, the team at Trent Wearner Golf gives some creative games for parents to overcome the "golf's so boring" objection. Suzanne Brown follows that with some great Father's Day gift suggestions. There's also a 21-page section filled with locations that, in addition to being "Colorado Getaways," are eminently family-
friendly.
June 3 brings the Colorado Golf Association and Colorado Women's Golf Association Parent/Child Championship to Frost Creek Club in Eagle. Each of the 60 teams can be any combination of a father or mother with a daughter or son. And in my book, they're all winners because they presumably enjoy a bond that will endure for many Father's and Mother's Days to come.
---
This article appears in the June 2017 issue of Colorado AvidGolfer. Subscribe today!
Colorado AvidGolfer is the state's leading resource for golf and the lifestyle that surrounds it, publishing eight issues annually and proudly delivering daily content via coloradoavidgolfer.com.Follow us on Twitter, Facebook and Instagram.