Colorado AvidGolfer Magazine is the region's premier golf, lifestyle and travel publication. As an industry leader, we cover the lifestyle around the game for golf enthusiasts and travelers alike! We pride ourselves on featuring the unique personalities, places, lifestyle aspects, gear and industry trends that help our reader enjoy golf-related experiences in Colorado and beyond.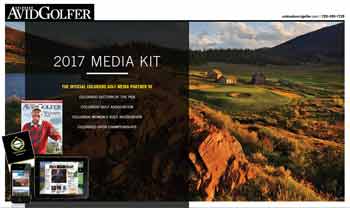 Magazine Distribution
Annual Circulation………………………………………275,000
Print Frequency…………………………………………8x per year
Average Circulation per Issue…………………………35,000
Subscribers………………………………………………15,000
Readership
Audience…………………………………………………425,000
Male/Female……………………………………………..85%/15%
College Educated………………………………………..91%
Age
Average Age of Reader…………………………………49
25-54…………………………………………………….59%
Affluence
Average HHI……………………………………………$146,705*
$150,000+……………………………………………….52%
Average Disposable Income……………………………$111,272*
Average Net Worth…………………………………….$1,190,063*
Home Value
Average…………………………………………………$414,491*
$300,000+……………………………………………… 71%
Colorado AvidGolfer Magazine delivers an affluent, highly educated and activity driven audience that enjoys learning about the game of golf, traveling, fabulous food and entertainment, business, auto reviews and personalities that shape the regional landscape.
Influential
• 40% of our subscribers live in the Top 25 Wealthiest Zip Codes in the Denver Metro Area
• More than 50% of our subscribers are country club members
• 59% of our readership are owners, partners and or executives
Real Estate/Travel/Activity Oriented
• 73% play more than 25 rounds of golf per year
• 33% plan to buy real estate within a year
• 94% of our readers own their own homes
• 54% will take 2-3 golf vacations outside Colorado
• 59% will take 2-3 golf vacations in Colorado
| | | | |
| --- | --- | --- | --- |
| Issue | Ads Due | Special Inserts Due | First Copies |
| Winter '16 | Nov 2 | Nov 10 | Nov 28 |
| Spring '17 | Jan 18 | Jan 26 | Feb 9 |
| April | Mar 8 | Mar 14 | Mar 31 |
| May | Apr 5 | Apr 11 | Apr 27 |
| June | May 3 | May 8 | May 26 |
| July | June 7 | Jun 12 | Jun 30 |
| August | Jul 5 | Jul 10 | Jul 28 |
| Fall | Sep 6 | Sep 13 | Sep 29 |
| Winter | Nov 1 | Nov 6 | Nov 29 |
Magazine Advertising Specs (Download full spec PDF)
Spread: 17″ X 11.125″ (bleed) / 16.75″ x 10.875″ (trim)
Full Page:  8.5″ X 11.125″ (bleed) / 8.375″ x 10.875″ (trim)
2/3 Vertical: 4.75″ x 10″
1/2 Horizontal: 7.375″ x 4.8542″
1/2 Vertical: 4.75″ x 7.375″
1/3 Vertical: 2.25″ x 10″
1/3 Square: 4.75″ x 4.875″
1/6 Horizontal: 4.75″ x 2.3125″
For HTTP access, FTP access with Fetch or other FTP client software:
Gate Fold / Cover Gate Specifications
Cover Gate:  8.25″ x 10.875″ (no side bleed / standard bleed on head and foot)
Gate Pages: 7.875″ x 10.875″ (standard bleed on face / head / foot)
Contact our graphics department (at ext. 13) for further questions.
CLICK HERE FOR GATE FOLD INFORMATION
Magazine Trim Size:
Keep live matter .25″ from trim.
Perfect alignment of type of design across gutter cannot be guaranteed.
Golf Passport Specifications:
Print Specs (Bleed):  4.625″ x 6.25″
Print Specs (Final Trim): 4.5″ x 6″
PolyBag Insert Specifications
ALL INSERTS MUST BE SUBMITTED TO COLORADO AVIDGOLFER MAGAZINE FOR APPROVAL PRIOR TO DELIVERY TO PRINTER
Minimum Size–5.75″ x 4″
Maximum Size–8.25″ x 10.75″
Stock–Must be 80#
Inserts must be delivered by deadline to:
Polybag insert inventory is limited and reservations are taken on a first come first serve basis. Prices include category exclusivity within the polybag.
CAG and the printer must approve all special sized inserts such as multi-page or thick inserts in advance.
David Greenbury or Ed Teter
American Web
12790 E. 38th Ave.
Denver, CO 80239
(Clearly label or mark packaging with "Colorado AvidGolfer")
Supplied Bellyband Specifications
Four Color
Stock–Gloss Text Weight
Weight–80#
Size: 3″ x 18″ (visible "ad" area on the front is 8.5″ across x 3″ down)
Image Area–Full Bleed Minus Wrap Around
Belly Band must attach on center rear of magazine with a 1.375″ overlap
Trim size of publication is 8.375″ x 10.875″
General Advertising Specifications
In keeping with industry standards regarding digital ad delivery, Colorado AvidGolfer promotes PDF/X-1a, PDF/X4 2007 or newer as the preferred submission format for all advertising files. We strongly encourage all advertisers to become familiar with the PDF/X standard. It is widely accepted and extremely reliable. However, we will continue to accept native file formats for a limited time. For more information regarding the PDF formats and a list of software vendors and service bureaus that support them, visit www.swop.org.
PDF Format
Only hi-res, press ready PDF files will be accepted.
PDF/X-1a, PDFX4 2007 (or newer) file formats are accepted via: 1) File Transfer Method (preferred, see FTP information above), 2) E-mail (*8mb or less only), or 3) CD-ROM. Only one ad per file please.
All high-resolution images (300 dpi) and fonts must be included when press-ready PDF files are saved.
Type 1 fonts only (no TrueType fonts or font substitutions).
Images must be SWOP (CMYK or Grayscale)
Please call our graphics department 720-493-1729 (ext. 13) with any problems or questions.
Proofing
Color proofs should be submitted with digital files, and they should be printed at 100%. In absence of paper proofs or unacceptable proofs, Colorado AvidGolfer is not responsible for the color reproduction. Digital color calibrated proofs that meet SWOP standards should be used for digital ad materials. Black-and-white laser proofs are acceptable with color ads, but Colorado AvidGolfer cannot guarantee accurate color with such submissions. In cases when proofs cannot be supplied at 100%, please clearly indicate at what percentage the proof is printed. Please send to:
Colorado AvidGolfer
Attn: Cindy Palmer, Business Manager
7200 S. Alton Way, Suite A-180
Centennial, CO 80112
Online Advertising Specs
Leaderboard (728 x 90)
Home Page Rotator (436 x 400)
Rotator (620 x 372)
Medium Rectangle (300 x 250)
Files can be submitted as JPEGs, GIFs or Flash.