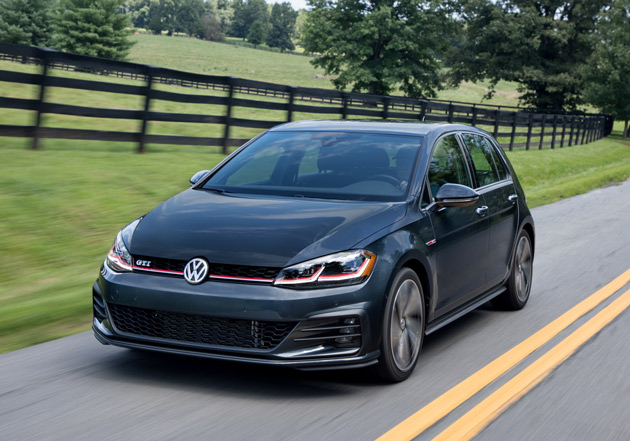 VW's iconic hatchbacks never cease to provide superb punch, practicality and value.
by Isaac Bouchard
Time spent in the Volkswagen GTI—the definitive hot hatch—makes me think of the Orleans song "You're Still the One," which dates to 1976, shortly after VW released the first GTI in Europe. Americans had to wait till the early Eighties to get our version, and over seven automotive generations this icon has tracked our tastes in what this class of car should be—and often defined them.
Changes for this year improve what was already a superb package. All three models—S, SE and Autobahn—now have a 220hp of the EA888 engine; the upper two get the limited slip differential that puts power down better and beefier brakes migrating down from the AWD Golf R.
While the standard six-speed manual has a nice feel to its throws, its clutch take-up works against smooth shifting. The optional twin-clutch gearbox takes care of that gripe and makes the GTI quicker, with 0-60mph being dispatched in 6 seconds and a 14.5sec quarter mile. And the VW feels faster, with a torque-rich midrange and rorty-sounding top-end power delivery.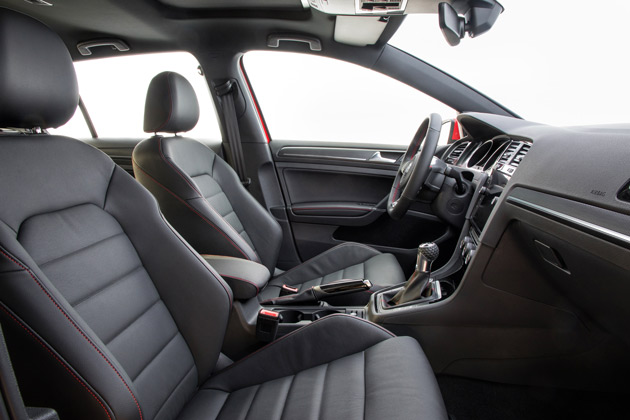 Handling is excellent, in the traditional, buttoned-down GTI manner. While it resists lift-throttle rotation, and has undefeatable stability control, this is still an interactive, entertaining machine.
Steering weight, precision and linearity are first rate, body motions well controlled (even without the Autobahn's adjustable dampers) and the brakes stand up to abuse. The ride is a bit fidgety on the highway, but the GTI has all the refinement one might otherwise want in a daily driver.
The practicality of the GTI—especially in five-door form—to help explain why the Golf on which it is based is Europe's best-selling car. A mountain bike slides in back, rear seat occupants can comfortably ride longer distances, and the superb front chairs are both supportive and comfortable.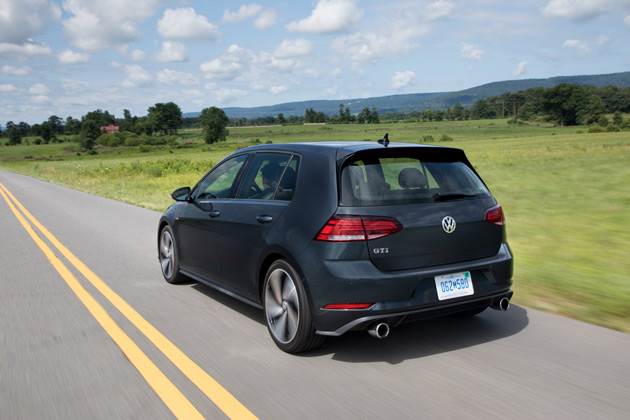 The upgraded infotainment system, accessed via an 8-in touchscreen is very intuitive and well-sorted. Active safety tech like pedestrian detection, emergency braking and adaptive cruise is standard on the upper trims. At is sub-$30,000 price, the GTI is excellent value, offering most all the fun and function most ever would need.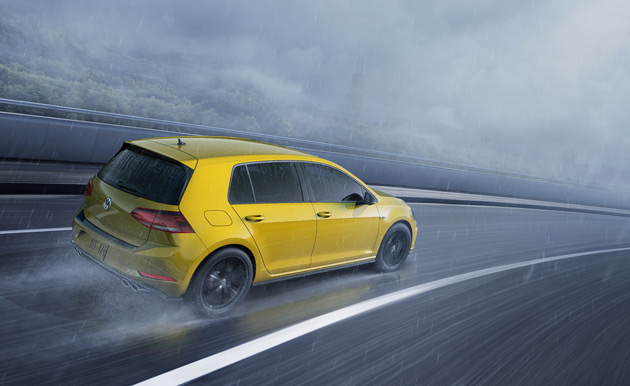 The Golf R makes an interesting contrast: all wheel drive and more power technically make it more of a competitor to rally rockets like the Subaru STi and (discontinued) Ford Focus RS. But it carries forward all of the GTI's strengths in terms of refinement, superb ride—if equipped with the adjustable dampers—and the way it harnesses and deploys its extra power and torque (292hp and 280lb-ft) give it an even more mature demeanor.
This is especially true when the the R's urge is channeled through the optional DSG twin-clutch gearbox. The traction afforded by AWD helps it leap to 60mph in 4.8 seconds, over a second clear of the GTI.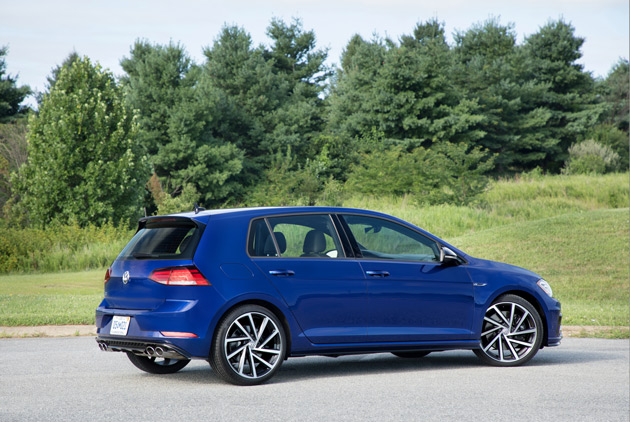 The Golf R doesn't have the kind of scrappy handling of the Ford or Subaru, however; it too marries a tied-down, solid feel with linear and accurate steering. The Haldex-based AWD does push power to the rear wheels to help on corner exit, but it never rotates hard enough to enable four wheel drifts. Yet it is compellingly interactive in a civilized manner and makes for an incredible feeling of security, no matter the conditions.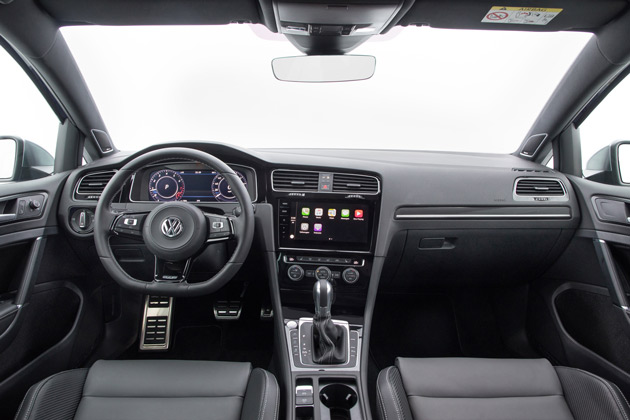 Inside, differences to a GTI are fairly minor: optional leather, slightly more upscale trim panels. The ambiance is fine, but at just over $40k, VW is probably reaching the limit of what's acceptable in terms of material quality. That said, it is better than pony cars like the even more expensive Mustang GT.
And if one wanted to spend more, Audi will sell you an almost identical set of mechanical components wrapped in a more upscale package, in the S3. But then you'd lose the Golf R's hatch practicality and stealth fighter aesthetic. It truly is in a class of its own.
EPA ratings: 24/32/24mpg; Golf R: 22/29/25mpg
0-60mph: GTI: 6.0sec; Golf R: 4.8sed (indep test)
Price as tested: GTI: $31,165; Golf R: $41,735
Here is what VW has to say about the GTI and the Golf R.
Both 4.5 Stars
Contact Isaac Bouchard for help saving time, money and hassle when buying or leasing one at [email protected]