Ford F-150 Power Stroke Diesel Review
By Isaac Bouchard
---
It seems obvious that the best-selling vehicle in the world should have lots of engine options—and it does. But until now there wasn't a diesel you could get in the F-150.
Partially this was the technological challenge of making one that was sufficiently powerful and efficient to justify itself in real-world use, while also meeting or exceeding the toughest emissions laws in the world, and partially it was a matter of timing. Since so much rides on this truck being right, Ford needed to make sure this six-cylinder Power Stroke was ready for prime time.
They appear to have succeeded on nearly all fronts; while I didn't get the chance to haul a heavy load with the test vehicle (my 7,000-pound enclosed trailer was inaccessible), daily use revealed much about the diesel F-150's character. To start with, this 3.0-liter is incredibly quiet, with hardly any of the characteristic rattling noises one associates with compression ignition engines. Extensive sound encapsulations insure that the acoustic signature of the Power Stroke is close to more common gasoline motors, despite aluminum heads—which are usually noisier. Next was performance: floor the accelerator pedal from a stop and there is a brief moment before the variable-geometry turbo spools up and delivers meaningful shove—just like in the 2.7L and 3.5L EcoBoost engines. But it doesn't last long, and once the compressed air hits, the diesel is off like a scalded cat, riding a wave of torque that peaks with 440lb-fts at just 1750rpm. The Power Stroke has a really strong midrange surge and even decent top-end performance (this being a relative term, with only 250hp at 3250rpm). I credit much of this powertrain's likeability to the use of the corporate 10-speed automatic. Its ultra-short first gear and smaller gaps between ratios really help keep the diesel on the boil and contribute to the good fuel efficiency numbers I saw, which often exceeded the EPA ratings.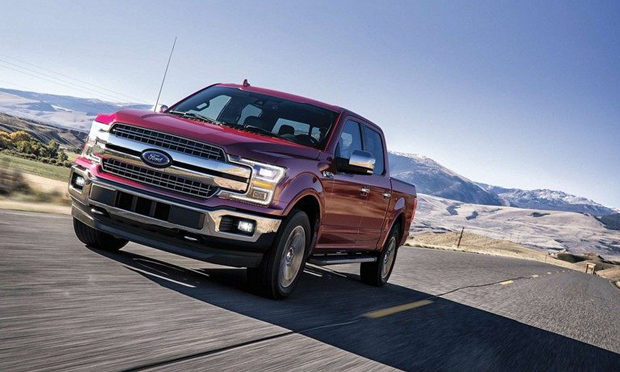 Independent testing shows 0-60mph takes somewhere in the mid-7 second bracket, which makes the diesel slower than a typical EcoBoost. But it offers more than adequate punch in normal use, and this isn't why one would consider the diesel anyway. What matters is its efficiency, something the gas motors struggle with in many situations, especially when towing heavy loads. Last year a 3.5L EcoBoost averaged 5.5mpg for me while towing that same trailer at average (legal) speeds of 75-80mph. Other testers found that with similar loads, the Power Stroke will double that. And unladen, I saw 28mpg on highway runs. How accurate the diesel Ford's trip computer was I cannot say, but the one in that gasoline machine I used last year was close to spot-on. The diesel will also go much farther while towing: at least double the 250-275 miles between fill ups of the gasoline machine I had, and over 800 miles unladen, which is simply incredible.
One caveat here: the F-150 Power Stroke, while rated to tow over 10,000lb loads in 4×4 SuperCrew spec, doesn't offer the kind of immense passing power that the newer Super Duty models (or even that F-150 EcoBoost) serve up; in this respect it reminds me of the 2003 F-250 diesel I first towed with on a regular basis. While that truck's 7.3-liter engine is now considered a benchmark for longevity, it had a hard time maintaining momentum at higher speeds and elevations with the loaded, enclosed trailer. That a half-ton truck will do as well is an accomplishment, especially in that the new F-150 so much more civilized. But we've all become spoilt when it comes to pulling really demanding loads by these three-quarter and one-ton rigs with their 700-900lb-ft torque outputs.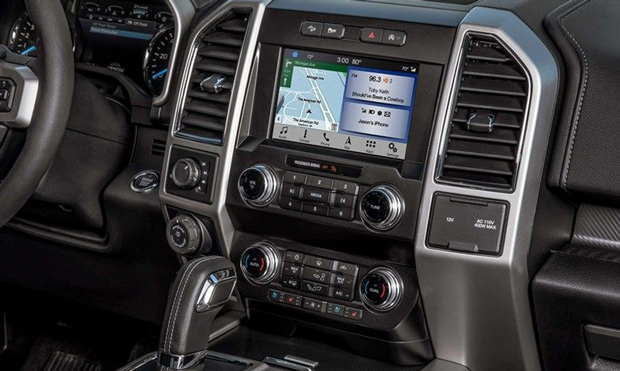 Ford doesn't expect a high take-rate on the F-150 Power Stroke, nor does it need one; the engine comes at a premium over the EcoBoost and is specifically targeted at those who value actual fuel efficiency and tow lighter loads on a regular basis. At those mission it excels. And there are still another four gasoline engines to choose from if Power Stroke isn't the right choice for an F-150 buyer.
---
EPA ratings: 20/25mpg; 22mpg combined
0-60mph: 7.5sec (estimated)
Price as tested: $67,470
Here is what Ford has to say.
4 Stars
---
Contact Isaac Bouchard for help saving time, money and hassle when buying or leasing one at [email protected]
Colorado AvidGolfer Magazine is the state's leading resource for golf and the lifestyle that surrounds it, publishing eight issues annually and proudly delivering daily content via coloradoavidgolfer.com.