2017 Ram 3500HD Limited Review
---
We've all heard the veteran phrase "Horses for courses;" applied to the Ram 3500HD it conjures up images of a Budweiser Clydesdale. Here's a truck whose 6.7-liter Cummins inline six punches out 900lb-ft of torque (930lb-ft for 2018) and can tow 25,000 pounds when equipped with an optional fifth-wheel hitch (30,000 for 2018). So when its bumper hitch was attached to my measly 3,000 ATC aluminum box-on-wheels and its roughly 3,200 of enclosed cargo, one could rightfully assume I wouldn't feel any difference in its prodigious thrust.
And one would be correct. The moment I rounded the onramp and rolled into the throttle, the Rammer Jammer hit boost and blasted well past Interstate 25's legal limit in seemingly no time at all. While its 385hp rating places it behind the latest from Ford and GM, all of these rigs are specc'd well beyond most folks' needs; yet this surfeit of performance is one of their attractions, just like buying a 500-600hp street car. It's all about jus' knowing you could move the Earth into a slightly wider orbit to cool it off a few degrees and mitigate the worst effects of climate change.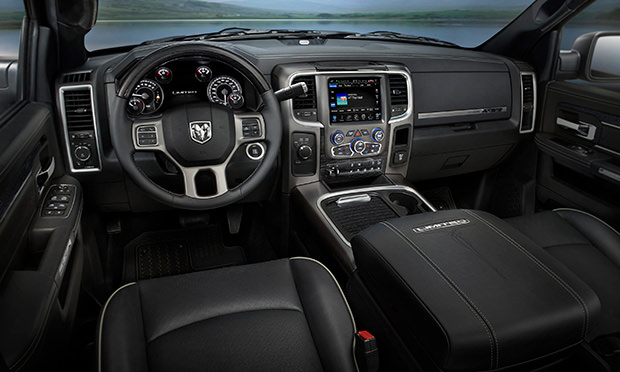 Back to reality for a moment: this engine and its Aisin transmission are designed for people who actually work, and its design and rebuild schedule(!) mean it can do 1,000,000 miles. Next time you see a diesel truck hauling one of those sloped trailers with three or more vehicles strapped to it, I bet the majority will say "3500HD" on the door. And while its unladen ride quality is basically nonexistent, shovel up to 7,390 pounds into the Ram's bed and it wont blink. Just the idea of a 31,210 max tow capacity is awe-inspiring.
My own, more prosaic journey to the Pikes Peak International Raceway gave me time to appreciate a sybaritic interior that eases the pain of real work: luxurious, 10-way heated and cooled driver's seat (in case you care, I chose heat on the way down and cooling on the sweaty drive back) and heated wood n' leather wheel. The Limited model's pleasing design, nice material quality, fast responding uConnect infotainment system—important so you can keep your awareness on your towing—and a great Alpine sound system made the miles fly by. The 3500HD averaged 12mpg while towing, which is 3-4mpg better than the lighter duty Chevrolet diesel I owned at the time, and the Cummin's extra muscle was clearly noticeable when cresting the passes on the way towards Colorado Springs. There was always extra when overtaking was needed, and the stoppers were suitably stout, whether aided or not by the exhaust brake.
What the Ram 3500HD engendered more than anything was respect. While certainly overkill for my needs, I can easily see that someone who has a large fifth-wheel camper or combo camper/toy hauler would revel in its style, luxury and capabilities.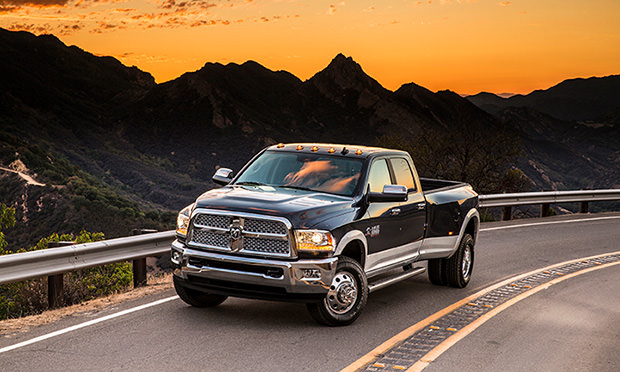 ---
EPA Ratings: Not Rated
0-60mph: 8.3sec
Price as tested: $79,965
Here is what Ram has to say.
4.5 Stars
---
Contact Isaac Bouchard for help saving time, money and hassle when buying or leasing one at isaac@bespokeautos.com
Colorado AvidGolfer is the state's leading resource for golf and the lifestyle that surrounds it, publishing eight issues annually and proudly delivering daily content via coloradoavidgolfer.com.